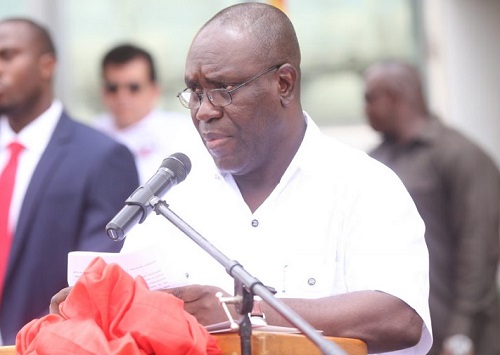 Secretary-General of the Trades Union Congress (TUC), Dr. Yaw Baah, has observed that unfair labour practices perpetuated by some employers are because state institutions like the Factories Inspectorate Department, the Labour Department and the National Labour Commssion either do not have the resources to monitor and enforce compliance – or in the case of the Commission, cannot expeditiously adjudicate on labour disputes due to insufficient resources.
Dr. Baah stated that hundreds of thousands of workers are paid below the National Minimum Wage, which is currently just about GH¢270 per month. Additionally, tens of thousands of workers are working as casual employees without employment contracts.
"In fact, some of them have worked as casuals for over a decade, which is against provisions of the Labour Law (Act 651). Tens of thousands of workers are denied their fundamental right to join unions because they could be sacked by their anti-union employers if they exercise that right," he added.
"There are tens of thousands of young men and women who are being denied the right to annual leave and sick leave with pay. Some are forced to work overtime without pay. Children are being forced to work in very hazardous conditions on farms, on rivers and at sea. Some female employees have been denied their reproductive rights to have children because their employment contracts could be terminated if they become pregnant."
The TUC Secretary-General made these remarks in commemoration of May Day, and observed that this year's May Day is very special because it coincides with the centenary celebrations of the International Labour Organisation (ILO).
"It is important to note that Ghana has been a member of the ILO since 1957. Ghana has since ratified 50 ILO Conventions which have provided the basis for the rules, laws and regulations governing employment in the country," he stated.
Dr. Baah also touched on social security. He noted that Ghana's total working-age population is estimated at 13 million. However, just about 1.5 million (representing 11.5 percent of the total working-age population) have access to pension under the Social Security and National Insurance Trust (SSNIT).
"This means over 11 million working people (mainly in the informal economy) do not have access to social security. This is not acceptable in a rich and proud middle-income country like Ghana. Something has definitely gone wrong in our economic and social policy."
The TUC is therefore expecting concrete plans and a road map for Universal Pension Coverage in the country in the 2020 Budget and Economic Policy Statement, Baah added.
Low coverage is not the only weakness of our social security system. Another weakness is the payment of inadequate pension benefits, especially for pensioners on the SSNIT scheme. Currently, there are about 200,000 pensioners on the SSNIT scheme.
"It may surprise you to know that about a quarter of these pensioners (i.e. 50,000 pensioners) are receiving just about GH¢300 per month or GH¢10 per day. This is woefully inadequate, given the health challenges old people have to contend with on daily basis. This explains the high incidence of poverty and destitution among pensioners in Ghana."
The TUC boss also spoke on inequality in pension benefits. Currently, the highest pension on the SSNIT scheme is GH¢55,000 per month (or GH¢660,000 per annum) compared to those receiving a minimum pension of GH¢300 of (GH¢3,600 per annum). This represents a ratio of 183 to 1.
"Why should we allow such extreme inequality of pension benefits in our national insurance scheme?" he queried.
Another shortcoming of our pension system, he added, is the discrimination against women in terms of access to social security and levels of pension benefits. "Currently, women constitute about two-fifths of contributors to SSNIT. A significant proportion of female pensioners are earning minimum pension of just GH¢300 per month."
These weaknesses in our pension system can be attributed to the inherent flaws in the legislation governing social security, as well as failure of our social policy to recognise the needs and vulnerabilities of some sections of our society, Dr. Baah said.
"Realistically, we cannot expect our pension schemes to perform effectively and efficiently if government, which is the single largest employer with over 600,000 workers on its payroll, fails to pay social security contributions. If there is any factor that can lead to the collapse of our pension schemes, it is the persistent non-payment of social security contributions by government. Mr. President, once again, we are appealing to you to change this situation."