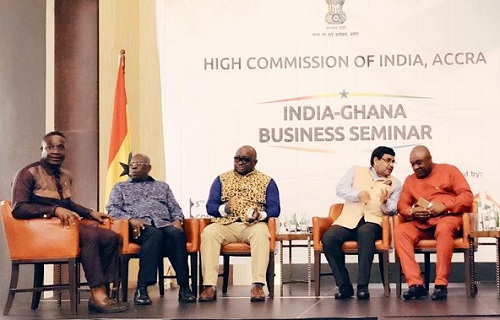 The Ghana-India Trade Advisory Chamber (GITAC) has ended an investor seminar with a commitment to building and nurturing mature beneficial relationships between the two countries, which would be extended to other economies in West Africa.
The investor seminar brought together business executives, policymakers and officials from the diplomatic community to discuss issues relating to promoting business and investment growth among the two countries, and was under the auspices of the High Commission of India, Accra. It was aimed at promoting bilateral trade between Ghana and India, and boosting investment for wealth and growth of the two economies.
The president of GITAC, Mr. Dominic Oduro-Antwi, in an interview with B&FT after the seminar held in Accra said: "We are trying as much as possible to build and nurture mature and beneficial trade relations between Ghana and India".
He indicated that the chamber, since its inception, has been championing the cause of promoting business activities and fostering joint-ventures among firms of Ghana and India, adding that the summit seeks to deepen efforts to explore trade and investment opportunities.
GITAC consists of members from various sectors including mining, trade, financial services, real estate and construction, energy and health. The rest are legal services, hospitality, engineering, agro-processing, manufacturing, import and export services, Information and Communication Technology (ICT), education, and airline and shipping services.
A deputy Minister for Trade and Industry, Mr. Carlos Kingsley Ahenkorah, said India has contributed immensely to the economy of Ghana and the Ministry of Trade is always ready to welcome investors who are ready to help uplift the trade potential of the country's economy.
"There is more profitability doing business in Ghana going forward," he said.
Speaking on government's 'One District, One Factory' (1D1F) project, Mr. Ahenkorah indicated that there will be a number of projects inaugurated under the initiative which will help boost industrialisation in the country, and this will be visible by end of the year.
"By end of this year, Ghanaians are going to see that our talk has not been in vain but we have actually walked the talk; and the President will be going around inaugurating these projects for you to see that we have not just paid lip-service. We were serious when we talked about 1D1F," he said.
He explained that various projects under the 1D1F are at various stages and their inauguration, scheduled to start by end of the year, will show that government is serious about the initiative.
"The 1D1F programme has taken off in earnest; 75 percent of the companies are in various stages of construction. Theresident inaugurated one of them at Kpone, and I have also had the opportunity to cut the sod for a couple of them," he said.
He told the investors that the ministry had profiled the country's 254 districts with their natural resource endowments to aid investors in identifying areas they could invest in, adding that a road show on the 1D1F has been earmarked.
"If you are interested in the 1D1F and you come to my ministry, we will be able to tell you where to find the raw materials.
"When you tell us what manufacturing activities you have, then we will be able to identify a place in Ghana where your input-raw materials are located so that you will not be found wanting in positioning your companies," he said.
He urged GITAC to be ready to play a major part regarding the 1D1F initiative, "so it can tell the success stories of Indian businesses in Ghana," he remarked.