The Ghana Export Promotion Authority (GEPA) has said that it has, under the National Export Development Strategy programme, targetted earning more than US$10billion in revenue from non-traditional exports by end of 2028.
Since its establishment, Ghana's Non-Traditional Exports (NTEs) sector has grown from US$2million annually in the early 1980s to US$2.8billion in 2018. However, with the Africa Continental Free Trade Agreement (AfCFTA) coming, GEPA wants to take advantage and roll out a project that will ensure the country derives maximum benefits from it – hence the Export Development Strategy.
Speaking at the 79th Exporters Forum in Accra, the CEO of GEPA, Dr. Afua Asabea Asare, said her organisation is currently working with exporters to make them ready for the largest trading bloc in the world.
"These initiatives are geared toward ensuring that we are aligned toward expanding our export revenue base, especially with the African Continental Free Trade Area coming into effect. We will have to be ready; we have to ensure our people can understand and appreciate the importance of AfCFTA, and its relevance to them on a social and economic level.
"The greatest threat to any initiative is to believe that someone else will drive it and make it run. We have to make our exporters ready for the opportunities when they come knocking," she said.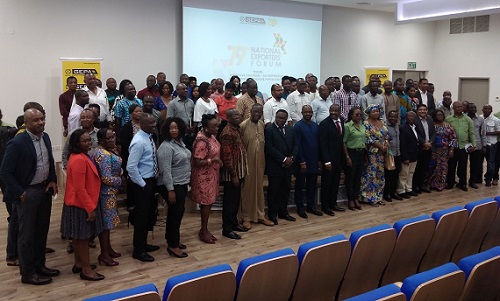 Some of GEPA's achievements during the year include training programmes in financing and trade sustainability for micro, small and medium enterprises; providing exposure to 160 exporters through about 15 international exhibitions; provision of approximately 20 million pineapple-suckers to farmers with expected returns within a period; and 220,000 grafted cashew seedlings developed under the National Cashew Development Initiative and Cashew Industry Association of Ghana (CIAG) have been given to cashew farmers to encourage cultivation of healthy and quality crops, among others.
The forum also presented an opportunity for exporters to share their challenges and concerns with various stakeholders. One of the major challenges the exporters highlighted was difficulty in obtaining permits and certifications from various regulatory bodies, such as the Food and Drugs Authority (FDA) and Ghana Standards Authority (GSA).
One of the exporters, Eugenia Akuete-CEO of Mothers Shea, lamented the duplication of effort and cost with the two bodies, saying there ought to be discrimination in the fees and charges that reflects the strengths of different company classifications.
"The classification of small, medium companies is blurred. The FDA and the GSA all expect you to go through the same documentation as the large companies. These large companies have the resources, but the medium and small companies haven't gotten there yet," she said.
She added: "And then, also, lack of coordination and cooperation among government organisations. For example, if you are going to register with the FDA you should be able to use Ghana Standards Authority's certificate of analysis, because they are a government body and so you should be able to use their data. But the same procedure that you go through at GSA, you are required to go through the same at FDA – which is a duplication of effort and cost".