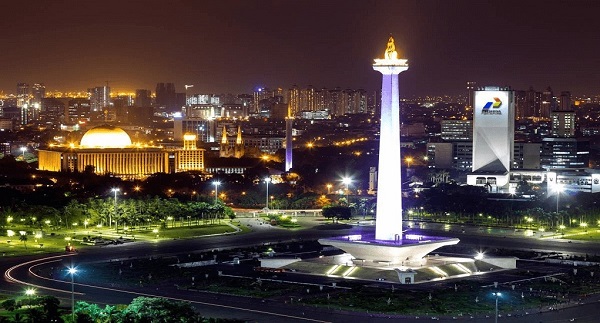 Its weird to think about the fact that since the end of President Suharto's 32-year rule, Indonesia has gone through a period of reforms which have reinvigorated its economy and encouraged Western investment – so that today Indonesia has changed and is home to over 261 million people who are determined to be atop the economic power pyramid.
Analysts believe by 2030 Indonesia will be among the seven largest economies in the world, and that this will transform it in the way such rapid growth and development transformed China. This, combined with Indonesia's strategic geographic expanse and its huge population – the fourth most-populous in the world – will make it a global player.
It is the world's largest archipelago country with more than 17,000 islands, and at 1,904,569 square kilometres is the 14th-largest by land area and the 7th largest in combined sea and land area in the world; and as well is the most populous Muslim-majority country. It is on the cusp of middle-class status and is rising economically.
It is very easy to focus on Indonesia's rapidly growing economy – its tourist attractions including temples and beaches; but the best reason for one to go to Indonesia is its people. They are very warm and friendly given their cosmopolitan nature. You experience it first in the passport control unit at the airport. However, one caution: Indonesia has no room for drug traffickers. Life will become very uncomfortable for you if you are found with anything powder. Avoid shaving powder in your luggage.
I had to go through extra security checks at Customs because of the shaving powder in my luggage. You can imagine the difficulty when you have officials who are not fluent in the English language. My colleague from Nigeria had to get police clearance before embarking on the familiarisation visit sponsored by the Indonesian Ministry of Tourism for Africa journalists from Ghana, Nigeria, Kenya, Mauritius and Mozambique. The 10-day visit took us to Jakarta, Yogyakarta, Bandung and Bali.
Jakarta is the country's capital city. It is a huge, sprawling metropolis and is home to over 10 million people from diverse ethnic groups all over Indonesia.
Its airport, Soekarno–Hatta International Airport is the busiest in the Southern Hemisphere. But you need to brace hard for some long hours in traffic. As part of the local experience, you may be driving down one wide avenue one minute and then find yourself squeezed into a small street with hundreds of cars and motorbikes the next. "When crossing the road in Indonesia you need the magic hand of God," says Mohammed – a tour guide who took us out in the evening to look for drinks in downtown Jakarta.
Yogyakarta
Yogyakarta, together with its twin city Surakarta (Solo), is the cradle of civilisation on Java. This city was the seat of power that produced the magnificent temples of Borobudur and Prambanan in the 8th and 9th centuries, and the new powerful Mataram kingdom of the 16th and 17th centuries.
Yogyakarta was publicised with the slogan of 'Jogja – The Never-ending Asia' for universal appeal. Today, it is also renowned as 'Jogja Istimewa' – a tagline that elaborates its special values.
This city is one of the foremost cultural centres of Indonesia. From strolling through the living museum of the Kraton (Sultan's Palace) to hanging out at the famous Alun Alun, to watching silversmiths produce amazing jewellery at Kotagede to maybe trying a shopping-splurge up at Malioboro Road.
Chasing sunrise in famous temples like Prambanan and Borobudur in the neighbouring town of Magelang is only one of the many more ways to never be bored in this relatively small yet bustling city.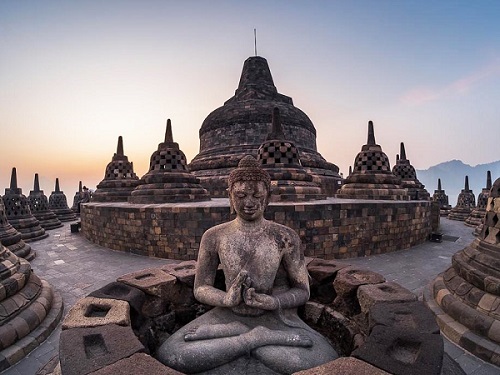 The Wonders of an Ancient Heritage
You can experience all five wonders in this artsy city. Starting from indulging in the natural wonders by visiting scenic beaches and photogenic landscape. Parangtritis, Indrayanti, Pok Tunggal, Siung, Krakal and Jogan are some of the famous beaches in town.
Breath-taking touchpoints such as Puncak Becici, Pinus Pengger, and Jurang Tembelan are only several of many more exciting back-to-nature destinations in Yogyakarta!
For culinary wonders, do not forget to try the Gudeg first – the special cooking of traditional Javanese recipe that is iconic to this city. The Bakpia is a traditional snack with many enticing flavours and spices that are popular for souvenirs. For a beverage you can try the Jamu, a natural herb-mix beverage based on ancient traditions used for natural remedies.
Bandung
The highland city of Bandung is only a short 2.5 hours' drive southeast of Jakarta via a toll road, and is the overwhelming destination of choice for Jakarta residents to get away for weekends and long holidays. Lately, it has also become a favourite holiday resort for tourists from Singapore and Malaysia, who go there in droves to shop and enjoy its nature-offerings and fabulous foods.
And with this popularity an abundance of hotels has sprouted, offering business facilities to luxurious services or also budget rooms; and eateries galore serving yummy local dishes adapted from old-style Dutch cuisine. Meanwhile, the adjacent cool town of Lembang and other scenic areas now also offer a wide variety of attractions and entertainment for the whole family, a haven for instagrammers.
Bali
Also known as the Land of the Gods, Bali appeals through its sheer natural beauty of looming volcanoes and lush, terraced rice fields which exude peace and serenity. It is also famous as a surfers' paradise! Bali enchants with its dramatic dances and colourful ceremonies, its arts and crafts, and has luxurious beach resorts and exciting nightlife to boot. And everywhere, you will find intricately carved temples.
The handicrafts of the Gods
There are thousands of gift shops in Bali. From Denpasar to Ubud, you will find many things you would like to bring back home. Balinese signature souvenirs range from delicious snacks and beverages to exquisite handcrafted goods like Tenum Bali.
If you are thinking of bringing home souvenirs, your best bet is to visit the souvenir market at Sukowati, where you will be overwhelmed by choice.
Most of the starred hotels are located near the beach. Some even have their own private spots at certain beaches, where you can splurge on exclusive privilege. You can find them easily at popular spots like Kuta, Sanur, and Seminyak.
There are many modes of transport to help you get around in Bali. A variety of excellent half-day, full day, and overnight tour packages are available from your hotel desk, or any of the numerous travel agents and tour operators which abound in Bali. You can also find a car and driver who will also be your guide. Tell the driver your desired routes and negotiate a fee.
Tourism contributed around US$28.2billion to GDP in 2017. In the same year, Indonesia received 14.04 million visitors; a growth of 21.8% in one year, spending an average of US$2,009 per person during their visit.
In 2018, the contribution of travel and tourism to GDP for Indonesia was US$62.6billion. Contribution of travel and tourism to GDP of Indonesia increased from US$14.9billion in 1999 to US$62.6 billion in 2018 – growing at an average annual rate of 8.18 %. Although Africa's contribution fell from 91,000 tourists in 2017 to 88,000 last year, arrivals have picked up. Figures from the Ministry of Tourism say as at August this year African arrivals had reached 58,000.
The drop was attributed mainly to the tsunami that hit the country last year. Officials are happy it is picking up. It is also addressing the issue of connectivity between the two regions, and as such has come into a working relationship with Ethiopian Airlines to facilitate travellers from the continent to Indonesia
China, Singapore, Malaysia, Australia and Japan are the top-five sources of visitors to Indonesia. Since 2011, Wonderful Indonesia has been the country's international marketing campaign slogan to promote tourism.
Nature and culture are prime attractions of Indonesian tourism. The former boasts a splendid combination of a tropical climate, a vast archipelago and a long stretches of beach; and the latter complements these with a rich cultural heritage reflecting Indonesia's dynamic history and ethnic diversity.
Indonesia has a well-preserved natural ecosystem, with rainforests that stretch over about 57% of Indonesia's land (225 million acres). Forests on Sumatra and Kalimantan are examples of popular destinations such as the Orang-utan wildlife reserve. Moreover, Indonesia has one of the world's longest coastlines, measuring 54,716 kilometres (33,999 mi). The ancient Prambanan and Borobudur temples, Toraja and Bali, along with Hindu festivities account for some of the popular destinations in cultural tourism.
The Indonesian tourism ministry is split into multiple wings and designed to respond efficiently to high-velocity changes in the sector. To market the vibrancies of tourist destinations and attract new visitors, they have directors for international tourism marketing. Also, it is to allow access for private sector investors to support government's efforts.
The Indonesian government has given priority to 10 destinations – Borobudur, Central Java; Mandalika, West Nusa Tenggara; Labuan Bajo, East Nusa Tenggara; Bromo-Tengger-Semeru, East Java; Thousand Islands, Jakarta; Toba, North Sumatra; Wakatobi, Southeast Sulawesi; Tanjung Lesung, Banten; Morotai, North Maluku; and Tanjung Kelayang, Belitung – and planned to assign maximum supplies for the said destinations. This shows the importance government places on tourism as a foreign exchange earner.