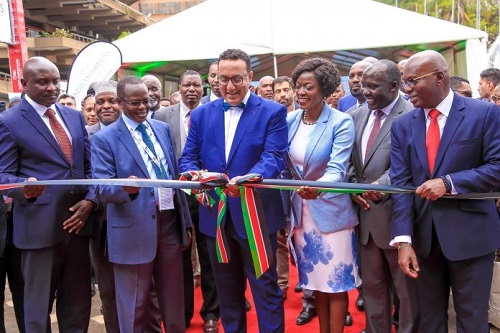 Kenya is positioning itself to tap into the multi-million-dollar cruise tourism sector, and is set to open a cruise terminal in the port city of Mombasa this year, Najib Balala, Kenya's Minister for Tourism and Wildlife has said.
Speaking at the opening of the 3-day Magical Kenya Travel Expo 2019, being held from Oct 2-4 in Nairobi, Kenya, he said that segment of the market is key for drawing in more tourists – for which reason the East African country's government is investing heavily in that space.
"Cruise tourism is growing globally, and Kenya wants to tap into this trend. Kenya has almost completed the construction of a cruise terminal in Mombasa. Government has invested there, and now it will be ready by end of this year," Mr. Balala said.
A growing number of travellers now seek to see the world in a mindful way, and the cruise industry represents one of the most conscious sectors that minimises its environmental footprint.
The Cruise Lines International Association (CLIA), the world's largest cruise industry trade association, in its latest report predicts: "Generation Z is set to become the largest consumer generation by the year 2020 – outpacing even Millennials. This generation like the one before, prefers experiences over material items and is seeking-out travel. The appeal of multiple destinations and unique experiences, such as music festivals at sea, is attracting this new category of cruisers".
The CLIA predicts that 30 million passengers are expected to cruise this year, up from 28.2 million people in 2018.
Over US$1,108,676 of jobs (full time equivalent employees) and US$45.6billion was generated in wages and salaries by the cruise industry last year. This shows the inherent opportunities in the cruise sector of the tourism market.
MKTE 2019
The Magical Kenya Travel Expo, which is in its 9th year, presents an opportunity to access a gathering of East Africa's tourism leaders, policymakers, leading tourism products, global buyers and media.
It offers the ideal platform for B2B meetings, leading Africa products, and top-producing global buyers. Delegates also get to participate in the seminars and market presentations to gain the latest industry trends.
This year, over 200 exhibitors from Africa and over 150 global buyers from 25 of Kenya's key source markets are attending the 3-day event running between Oct 2-4.
"The Magical Kenya Travel Expo is in line with our strategic objective of enhancing visitor experience, as well as increasing their awareness of the country's offerings in tourism. The current traveller is keen on more experiences and options for choice; therefore, the forum seeks to meet some of those aspirations for the investors and business people in this space," Mr. Balala said.
He added that: "The government is fully recognising tourism as a main pillar of the National Development Plan, and is therefore investing to ensure vibrancy of this sector through the creation of platforms, such as the Magical Kenya Travel Expo, for industry players to converge and seek opportunities".