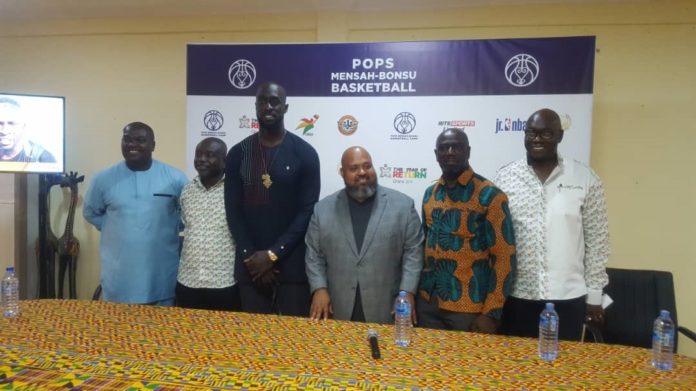 The Ghana National Basketball Association (GNBA), in collaboration with Ghana Tourism Authority (GTA), has organised a two-day basketball clinic in honour of Pop Mensah-Bonsu, British Basketball Executive.
Pops Mensah-Bonsu, who is the current General Manager of NBA Gatorade League side Capital City Go-Go, expressed joy coming back to Ghana again as part of the 'Year of Return' programme by government.
"I have played basketball to the level of the NBA and now I feel like it is time for me to come back and impart the next generation in Ghana. I want to come back to the people who gave so much to me to reach where I am and also be an inspiration to the young kids and provide opportunities for them," he said.
Pops Mensah made this statement speaking at the launch of the two-day Basketball clinic dubbed the Pops Mensah-Bonsu Basketball Camp at the Ghana Tourism Information Centre.
The two-day clinic is to be held at the International Central Gospel Church (ICGC) Court on August 18th and 19th.
The Camp which is aimed at giving young players a window of opportunity to maximize their talent, is to register over 100 boys and girls between ages of 12 and 18 participating in the programme.
Present at the event was Ghanaian born, John Manyo-Plange, Vice President of Basketball Africa League (BAL).
Manyo-Plange has more than 20 years of experience in the NBA's global operations and management and had been working in his previous role since May 2010 when he helped launch the NBA Africa office in Johannesburg, South Africa.
Third left; Pops Mensah Bonsu, with John Manyo-Plange, Vice-President, Basketball Africa League (BAL), and other executives of the GNBA