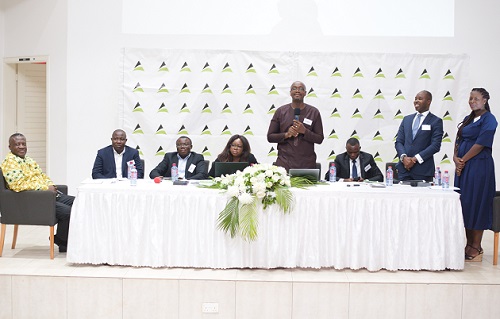 Workers who plan to continue living their current lifestyle even in retirement must look to long term investments instead of short term facilities that promises high but risky interest rates, Robert Marshall Benin, Chairman of the Board of Trustees of Cedar Pension Scheme, has said.
Speaking at the annual general meeting and inaugural open forum of the pension fund, which is managed by Axis Pension Trust, Mr. Marshall bemoaned the culture of short term focus on returns culminating in investors chasing 'rates' without regard to investment risk have led to many losing money to all sorts of Ponzi schemes disguised as investments.
"This drives fear and discourages smart investing. Favourable investment outcome can only be achieved over the long term. There is absolutely no shortcut. We have a tremendous responsibility to help solve this challenge and ensure the dignity of our retirees.
We shall use our role as fiduciary, our expertise in investing, our customer engagement platforms, our knowledge of and ability to empathize with our members' needs- to drive action," he said.
Research from the Organisation for Economic Co-operation and Development (OECD) shows that retirees need about 70percent income replacement to live comfortably. Statistics from the Social Security and National Insurance Trust (SSNIT) shows 86percent retirees in Ghana receive less than GH¢1,000, whiles 58percent of retirees receive less than GH¢500.
"This indeed is woefully inadequate to safeguard dignity of life at old age. The only way to change this narrative is through long term investing by people privileged to be in the work force at such a time like this. Investing isn't just about tomorrow – 'it's about decades of tomorrow'. By this we shall fulfil our purpose: to help the African worker retire with dignity through savings," he added.
Performance of the fund
In the face of a challenging economic climate, and the need for government to raise billions of Ghana cedis to address locked up or lost funds of investors in various investment schemes, the Trustees of the Axis Pension Plan ensured disciplined investment of the schemes asset in regulatory approved assets classes.
During the year under review, Net Asset Value (NAV) increased from GH¢82.68million to GH¢123.35million, with total inflows (contributions and transfers-in) of about GH¢22.96million, total outflows of GH¢3.74million and investment income of GH¢16.16million representing a year-to-date return of 15.94percent.
"This modest return for 2018, represents 610bps over average inflation. On the whole, the Cedar Pension Scheme has outperformed inflation averagely by 7.7percent since inception. We remain committed to add value to our members' contribution by growing their contribution at a substantial premium above inflation. To reiterate, we place our fiduciary duties above our own interest," he added.
As a result of the new National Pension Regulatory Authority's investment guidelines, the fund reviewed its strategic asset allocation in 2018 with the major change being the inclusion of alternative assets to its strategic asset allocation.
Also, it increased its equity allocation to 15percent. The revision, management explained, is to help position the portfolio for growth in a disinflation environment where fixed income provides little premium over inflation. "Cedar Pension Scheme invested in some listed equities we believe are fundamentally strong and relatively undervalued. Thus our equity allocation increased from GH¢2.6 million as of end of 2017 to GH¢8.64million at close of year 2018."
The fund in 2018 committed US$650,000 to Oasis Africa VC Fund Limited with draw down expected over four years. Capital drawdown as at the end of 2018 out of the US$650,000 total commitment stood at GH¢670,651.
He noted that Axis Pension Trust, the Corporate Trustee of the Cedar Pension will put at the fore front of its activities investor/member education. To him, the company owe it a duty to educate its members on general retirement planning and investment in order to improve their investment outcome when they retire.
Outlook
Touching on the outlook for the rest of the year, he believes one must proceed with cautious optimism because even as the Central Bank has completed the cleanup of the banking system, "we believe we are not out of the woods yet with regards to the financial sector clean up and general macro-economic squeeze."
But the fund expects a strong, liquid and well capitalized banking sector going into 2019 to anchor growth in the real sector. "This, coupled with a strong economy, should translate into strong corporate profits for listed equities. Government budget of over GH¢8billion to be spent on infrastructure is expected to prop up economic growth, with GDP growth projected to end 2019 at 7.6percent (Non-Oil Real GDP growth of 6.2percent)."
The key risk to the outlook remains the vulnerability of the economy to both internal and external shocks. Offshore portfolio investors hold more than 30percent of Ghana's local bonds, therefore a pullback will have significant impact on the cedi as was seen between Q2 and Q3 2018.
On Axis Pension Trust
But Mr. Benin assured that Axis Pension Trust will continue to lead the industry's innovation in 2019. Already, the company has updated its customer relationship management (CRM) platform which features a new contribution and withdrawals modules.
The contribution module allows for easy and seamless contributions upload by employers as well as ensuring employee contributions are credited to their accounts within a short period, whiles the withdrawal module is aimed at reducing withdrawal turnover period for employees. Its mobile app is also live and can be downloaded using both Android and iOS devices.