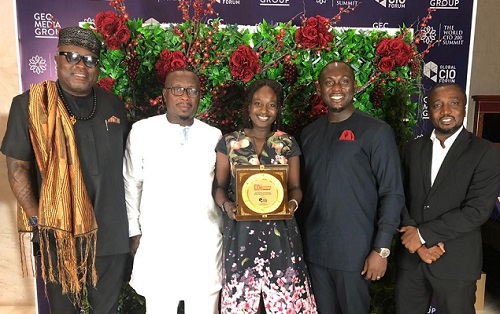 Ghanaian Digital transformation leaders displayed keen sense of industry knowledge
The just ended world CIO 200 summit in Dubai, brought together over 200 top IT leaders and global technology influencers who are championing the digital transformation journey in their respective countries. The gathering witnessed how collaboration by stakeholders can increase the footprint of technology and digitization to impact organizations, communities, and the world at large.
The delegation from Ghana was led by the CEO of Ghana Chamber of Technology, Derrydean Dadzie, and the three nominees for the CIO Global Award – Nana Bambara-Abban, CEO of Akaditi, Nana Yaa Oti-Boateng, a Digital Transformation Consultant with Vodafone, and Nelson Koshi Da Seglah, Chief Enabler at Halges.
The Ghanaian Digital transformation leaders displayed a keen sense of industry knowledge that contributed to the objects of the summit.
Overall, Nana Yaa Oti-Boateng of Vodafone received a Digital Transformation Inspire Award for being part of the top 20 candidates shortlisted from over 3200 nominations globally.
At the power panel sessions, Nana Bambara-Abban of Akaditi delivered a thought provoking and powerful presentation on the Human play in the digital play that became discussion-points at the summit.
Nana Yaa Oti-Boateng of Vodafone amplified the campaign on the impact of women in technology with an emphasis on the urgency to see a good balance between men and women in Science Technology Engineering and Mathematics.
Setting a global benchmark in 2018, 'The CIO 200' summit has been adjudged as one of the most important events for digital transformation champions. The CIO summit toured 15 countries on 3 continents and gathered over 3000+ C-level executives in the journey leading up to the summit.
The two-day summit presented highly specialized programs that included over 50 presentations by the foremost world digital change leaders. The power panel sessions provided a platform for Digital Change Influencers to network and engage for 2 days in Ras Al-Khaimah, UAE.
Kwaku Asare Ofosuhene – Head of Operations (West Africa) – at GEC Media Group, the media agency that powered the Global Summit, in his final remarks about the success of this year's CIO 200 summit noted that, "Ghana and Africa has content and resources that play a major role in the worlds' digital transformation journey. Let's open up to interact, influence and impact positively. Every industry player has the opportunity to come on board as a stakeholder in driving this agenda."