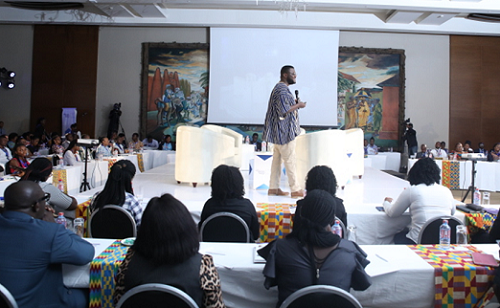 A one-day forum organized by the Nyaho Dove Foundation—the corporate social responsibility arm of the Nyaho Medical Centre—has called on the need for sustainable innovations and tech-based solutions to healthcare delivery in the country.
The Healthcare Forum, instituted three years ago, provides an interactive platform for health sector stakeholders to raise key issues that will impact government policies on quality healthcare delivery across the country, focusing strongly on the role of the private sector.
This year's event on the theme: "Innovating for quality healthcare", discussed medical issues in-depth with specific outcome-based actions that will be followed through with relevant metropolitan, municipal and district assemblies (MMDAs).
Managing Director of Nyaho Medical Centre, Dr. Elikem Tamaklo, admitted that strong partnerships between government and private stakeholders could help transform the health sector.
He therefore encouraged participants of the forum to point out the root issues of the industry to help inform sustainable and practical policy decisions and interventions.
"Nyaho Medical Centre is ready to partner the health ministry in the provision of quality and easily accessible healthcare across the country," he added.
Medical Director of Nyaho Medical Centre, Dr. Victoria Lokko, concurred that the future of healthcare delivery in the country lies with innovation and technology.
"We need to drive the conversation around the need for innovation in public access to healthcare across the sector.
But being able to leverage technology and innovations to increase efficiency while reducing cost of healthcare delivery requires constant dialogue amongst stakeholders," she noted.
Deputy Health Minister, Tina Naa Ayeley Mensah, in a speech read on her behalf, indicated the strong need for partnerships in advancing access to quality and affordable healthcare.
She admitted that technology will play a key role in advancing socio-economic development, particularly in the health sector and called for sustained dialogue on innovation and technology to improve healthcare delivery in the country.
"The private sector has been a critical partner in improving access to quality healthcare but a lot more need to be done in the areas of enhancing infrastructure, deploying modern technology and building skilled and competent labour for the sector," she noted.