Mrs. Ursula Owusu-Ekuful, Minister of Communications, has urged young women to purposely change their attitudes toward Information and Communication Technologies (ICTs) and take up leadership roles to bridge the gap within the industry.
"Ghana cannot achieve Sustainable Development Goals 1, 5 and 10 aimed at reducing poverty, achieving gender equality and reducing inequalities if there is no conscious and deliberate approach to encourage more girls and women to take up leadership roles in the ICT industry," she said.
Speaking at the opening ceremony of the Western Region Girls-In-ICT Open Day initiative at the Ghana-India Kofi Annan Centre of Excellence, Madam Owusu-Ekuful called on teachers and parents, especially, to encourage and empower girls and young women to consider studies and careers in the growing field of ICT, enabling both girls and technology companies to reap the benefits of greater female participation in the ICT sector.
The minister further noted that with the huge skills shortfall in the ICT sector, coding – a major aspect of ICT – has been introduced into the curricula of basic schools and teachers are being trained to transfer knowledge and expose students to the functional usage of ICT in workplaces.
"This is a matter of urgency, and we in government have introduced coding into the curricula to ensure the promotion and adoption of ICT careers among our youth. We hope this will help bridge the yawning gap between the digital skills needed by industry and the number of job seekers with required technical know-how," she said.
"As government is refurbishing community information centres to enhance access to the Internet, teachers will be trained how to teach the new academic curricula – including coding," she added.
She also called on the girls participating in the Girls-In-ICT programme to "learn as much as you can, gain new experiences, open your eyes and observe; ask as many questions as you can and know that you can achieve anything you set your mind to do with diligence and fortitude".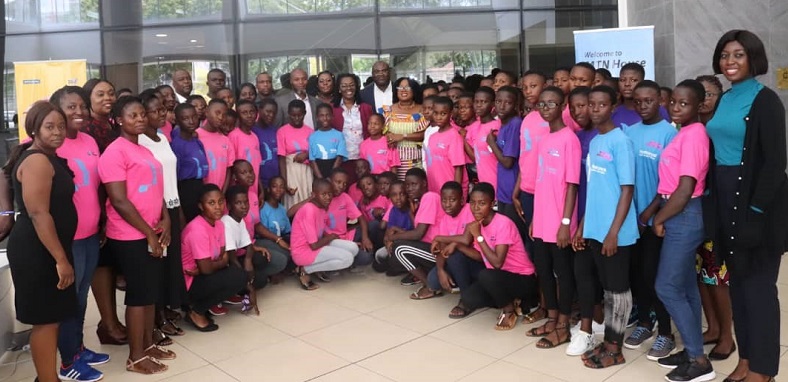 On his part, Mr. Samuel Koranteng, Corporate Service Executive at MTN, encouraged the girls to seize this opportunity and many others that will prepare them adequately for future job markets.
"You must recognise that whatever qualification you choose, a technology qualification will give you a competitive advantage over your peers and career mobility to earn more. Put technology at the heart of your development plan, as today's economy is more dependent on technology and innovation to survive and thrive," he said.
Ghana joined the International Telecommunication Union (ITU) International Girls in ICT initiative to implement activities aimed at bridging the digital gender divide, expanding opportunities available to women in the ICT sector and encouraging education of girls in ICT.  Over 4,000 students from selected basic schools in Ghana have participated in Girls-in-ICT projects – expectedly to enable both girls and technology companies to reap benefits from greater female participation in the ICT sector.