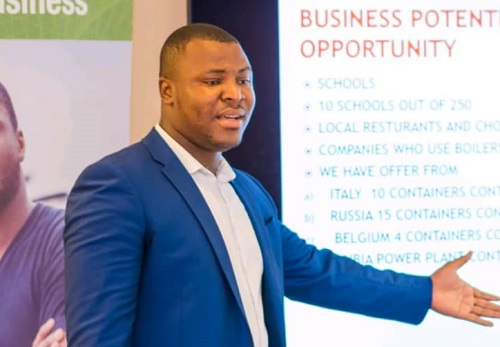 Waste is money. It has now become clear to everyone that most of the things we consider to be waste, and were causing sanitation problems in the environment, can now be turned into useful resources which tend to yield money – only it takes someone with foresight and ambition to take the step of converting that waste to money. A young man called Cyril has taken that bold step in Takoradi, Western Region of Ghana. Read on as he shares his story with the B&FT's Inspiring Startups on how he turned sawdust to money and clean fuel.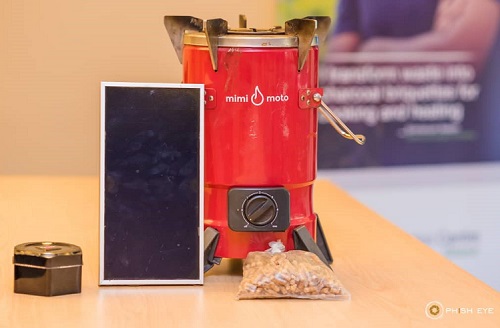 About Cyril
Cyril Commey earned a degree in business administration from the Central University College in Accra. He also has a masters' degree in energy and sustainable management from the Kwame Nkrumah University of Science and Technology.
Cyril was raised in a family that had long been involved in wood work. But growing up, he kept wondering whether sawdust could be put into any good use, as the sight of it heaped at various sawmills kept him concerned. So, in 2014, he researched on the Internet to see if there was a solution for his concerns. It was then that he realised some companies in advanced countries are using sawdust as clean fuel for cooking and other things. This impressed him, and he felt it would be the right kind of business to do in Ghana.
He followed up on his interest and searched for the contact of the machines' manufacturer for his production, and arranged to purchase one from China. He discussed this with one of his uncles, who pledged his support by giving him space in his house for production. He registered his business with the name Synergy Recycle and Waste Management Ltd.
Here come the machines
Finally, by the middle of 2015, the machinery from China arrived. The stage was thus set for Cyril to bring his dreams to life. He got the Chinese manufacturers to show him how to use the machinery and began his test production.
After about a year of production, he took samples of the product to some European countries – where some companies expressed interest in the pellets. But unfortunately for Cyril, he didn't have the capacity to produce to their demand. He had to turn attention to the domestic market. But the local market was initially not very responsive to the pellets.
Cyril decided to try another strategy. He added the production of a cooking stove that would complement the pellets. In partnership with the Takoradi Technical Institute, they developed a stove that would support his vision of providing clean energy for cooking in his community. It became an immediate hit as schools and other big organisations immediately bought into his idea. His products have touched the heart of many caterers, especially because it doesn't affect their health as the clean stoves do not emit smoke.
Also, the clean stove and t pellets together have proved to be energy-efficient compared to LPG. According to Cyril, clients who used the product have attested to the fact that is quicker that LPG. Again, it is also cost-efficient compared to LPG; up to 40 percent can be saved using the pellet stove.
The pellet stoves actually touch on four of the Sustainable Development Goals— clean energy, health, environment-friendly, and sanitation.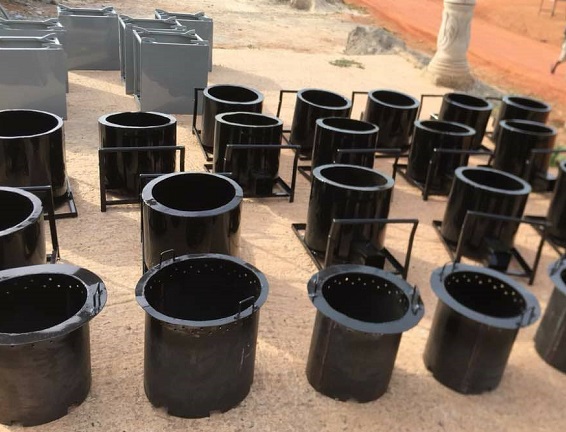 Vision
Cyril has a bigger vision for this business. In the next five years, he wants to expand to have a 6 tonne per hour capacity plant that will help him exceed the boundaries of Ghana and go international. With the help of the Ghana Climate and Innovations Centre (GCIC), he has acquired a 1.5 tonne per hour machine that has helped the company to scale-up and meet local demand. With so much potential in view, the company needs to expand beyond its current capacity.
Challenges
It is obvious that financial challenges will come first. For a business that wants to spread its tentacles abroad, only adequate finance will take to that destination. It needs to purchase a bigger plant to support such a large production capacity, and that runs into thousands of dollars.
Another challenge emanating from the lack of finance is having to rely on natural energy from the sun to dry the wood, because the company doesn't have machines to dry it. What this means is that during rainy or cold weather, production grinds to a halt – and that is not helping the company.
Then, because it is a relatively new technology – and a green one for that matter, it is expensive to operate; and this also increases the cost of production. So, consumers who are price-sensitive are not willing to switch to the pellet stoves and prefer to use the usual smoky stoves.
How education has helped
For someone who has a background in business administration, managing and marketing the business has not been a challenge for him at all. He has learned excellent customer service that keeps clients always satisfied after interacting with them.
Then, because he has a second degree in energy and sustainable management, he appreciates what he is doing better, knowing it is good for the environment.
How government should support young entrepreneurs
Cyril feels entrepreneurs in his field need a lot of support from government to thrive. It ought not to be all about money, he said; government can support them with the needed machines to scale up so they can work to pay back.
Again, Cyril is pushing for tax exemptions for startups owned by young entrepreneurs. This, he said, should include waivers of port duties when importing machines for production.
Advice
"Young entrepreneurs should have a lion's heart and never be afraid to make mistakes, since that is part of the learning process. They should always push on and exploit avenues for better opportunities. Don't be afraid to dare."
Contact:  020 612 0027