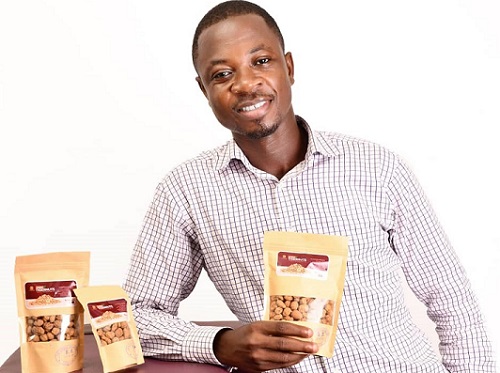 We see them every day being sold on the streets, mostly in soft, plain plastic packs; and in most cases, the bad nuts are not separated from the good ones. Consumers must do the separation themselves if they want to enjoy them. But that narrative has now changed, thanks to one young man—William— who has decided to make a difference in how tiger-nuts are packaged in Ghana. Read how it all began as he shares his beginning with B&FT's Inspiring Startups.
William Adusei Mensah is the CEO of Willies' Tigernuts. He is a graduate of the Kwame Nkrumah University of Science and Technology (KNUST) with a degree in Finance. He did his national service with the same university. After completing the service, he decided to continue with his masters' degree. Financing his education became a real challenge to him, so he relied on petty businesses to fund his education.
It was during the masters' programme that the tiger-nut idea came up. In an entrepreneurship class, the lecturer asked them to conceptualise a business idea and describe how they would brand and sell it. The idea that came to his mind was to repackage tiger-nuts and give them a face-lift, as the usual way they were packaged and sold did not make them attractive to the elite in society. It turned out to be a good idea.
So, after school when he was not getting any jobs, he implemented what was formerly a school project into a serious business idea. His strategy was to package them in a way that would make them attractive to elites in society and, further, be able to sell them in supermarkets and eventually export them.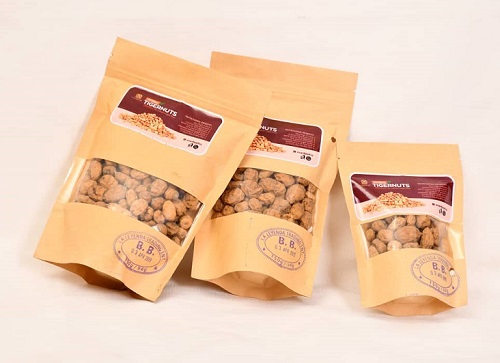 Beginning the dream
William began searching the Internet to find a suitable package for his products. He wanted a package made of paper that would be friendly to the environment. In time, he saw a suitable one made in China and engaged the company that manufactured it, and was able to import the package to kick-start his new dream.
However, the first few months of production nearly made him abandon his dream. When the products hit the market for the first time, sales were very disappointing. In fact, his sales persons virtually came back home with all the products. William took a break from production to investigate why things were so. Then, he came to the realisation that his sales persons were not going to the right people as targetted. So, he employed new people and coached them well on who their target market is and how to reach them; this ended his losing streak.
Vision
Willies' Tigernuts has a bigger vision. He is not just content with selling repackaged tiger-nuts and exporting them in future. He wants to develop them into juices and supply to hotels and supermarkets in and outside the country.
Challenges
One main challenge he has endured ever since he started this business in 2016 is the lack of adequate capital. Rebranding the product to make it attractive requires quite a lot of money. He needs machines that can wash and bag the nuts, and as well extract the oxygen from them in order to prolong life-span in the package. But because of inadequate finance, he must do everything manually – and that doesn't prolong the tiger-nuts' lifespan.
Again, because of the same financial challenges, he is unable to rent a spacious place to do his business. For now, he still operates from home.
How education has helped
William says his background in finance has helped him in his bookkeeping, making it possible to track the performance of his business.
In the area of communication, he feels education has played a big role for him. He has learned customer service skills which have helped him keep existing customers and attract new ones as well.
How government must support entrepreneurs
For William, government can help entrepreneurs through policies that make doing business as a startup easy. He says acquiring the needed certification has been something that frustrates a lot of startups, and it is about time government did something about it.
"The system is such that both startups and the big companies are treated the same. We are not saying they should compromise on quality or safety for startups. But there ought to be different requirements for small and big companies. At least, the requirement should be limited to the basics for young businesses; so that as they grow and want to expand, the other requirements can be applied to them."
Again, he said, government must also provide platforms like business expos among others that will make it easy for SMEs to market their products.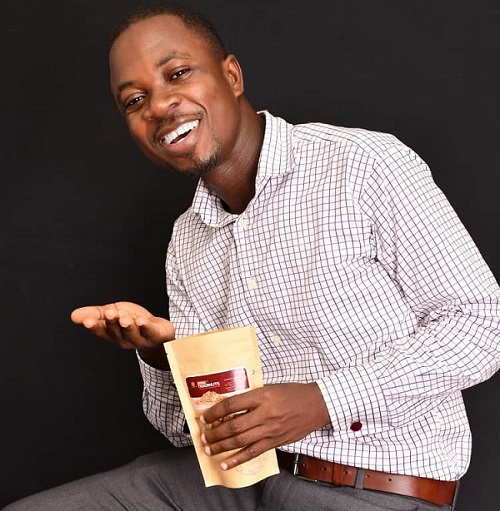 Advice
"Young entrepreneurs must know that entrepreneurship is not a simple journey. It can get frustrating, but do not lose sight of the main goal. Sometimes, situations may make you deviate from your original plan; but still, have your focus in mind."
Acknowledgement
William wants to express his special appreciation to Ace Ankomah, Managing Partner of Bentsi-Enchil, Letsa and Ankomah law firm, who shared his products on social media – which gave him the breakthrough he needed in his business.
Again, he thanks people from the office of the Vice-President who also saw his product on social media and decided to push it for him. Then, his colleagues in the office and his graphic designer, Dickson, who have all been helpful to him in financing and branding his product.
Contact: 024 789 9825