For many startups today, the narrative would have been different if they started their businesses some 20 years ago. The only option they would have had in advertising their products would have been through traditional media, something they could not have afforded. But with the emergence of social media, the story is now different.
With the number of Internet users in Ghana growing year by year, estimated to be more than 10 million in 2018 – which represents over a third of the country's population, and Ghana rated among the countries with high social media presence, small businesses, especially startups, are taking full advantage of the opportunity to advertise and market their products.
Even though there is no official data in Ghana that analyses the impact of social media on sales of small businesses, the B&FT can safely conclude via anecdotal evidence from the many startups in has featured in its Inspiring Startups column that social media has become a great marketing tool.
Juliet Gawu is the young CEO of a startup in Accra that adds value to gari (a local grain made of cassava) and packages it for sale. For her, business would have been extremely difficult but for social media. Over 90 percent of sales, she said, comes from clients that reach her via social media platforms like Facebook and Instagram.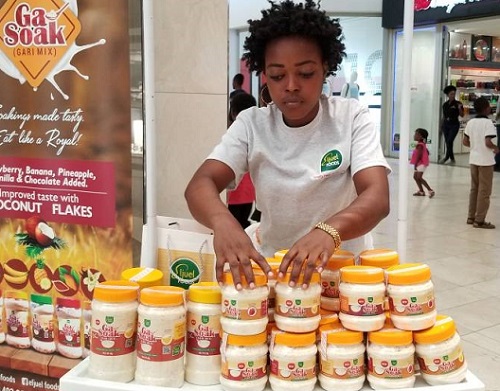 Another startup in Accra, Suleman Zakiya – who is into producing breakfast foods known as 'Hausa koko and Kose' – said over 70 percent of people who patronise her products got to know about her business through Facebook.
Fatima Zahra Shardow, a young entrepreneur who makes detergents and other cleaning products, said in a very good month more than 20 clients who purchase from her are people who saw her products on social media. This, she said, is about 70 percent of her buyers.
Beside the marketing opportunity it has provided small businesses, another advantage social media has given these startups is the fact that they do not need a physical location before they can make their products visible.
An artist in Accra, Eric Amofa, said even though he has no shop to display his work for people to see, social media has given him a virtual-shop to do so.
"I have no shop and I work from home. But because of social media, I can display my work and interact with clients to get details of how they want their product; and I am able to deliver it exactly as they want, even without a shop," he said.
There exists an even brighter future for the startups as Internet penetration and mobile phone usage continue to rise in Ghana. It is estimated that mobile phone usage has reached more than 23 million in Ghana, representing over 80 percent of the population.
Again, the Global Social Media Research Summary 2019 says India, Indonesia, and Ghana are among the countries with the largest social media usage due to improvement in technology and easy accessibility of social media.
Investments in social advertising worldwide are forecast to grow from around US$32billion in 2017 to approximately US$48billion.
For startups in Ghana, social media has come at the right time – as its non-existence would have meant a very tough time in selling their products.
"Sales would have been low and stressful, as more work would have to be done to reach your target market and to always appeal to their interest and taste. It would have required a lot of convincing and extra activities to get people to buy.
"With social media, I am able to share videos and pictures of the product and reach a large population with my content," Miss Gawu said.