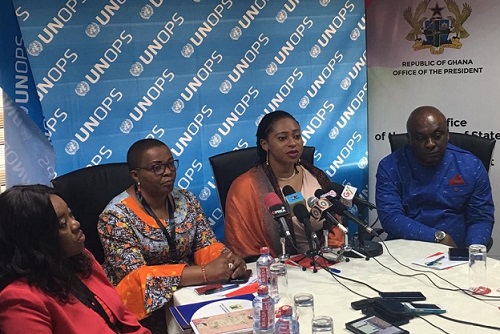 Micro Small and Medium Enterprises (MSMEs) are in line to partake in big ticket procurement contracts and business transactions with multinational enterprises soon, the initial consensus from an ongoing two-day United Nation Office for Project Services (UNOPS) Possibilities Forum shows.
According to the Director and Representative for UNOPS Ghana, Ifeoma Esther Charles-Monwuba, the two-day event is expected to equip the MSMEs to secure high profile business transactions and build networks globally.
"This is a landmark event in Ghana because procurement is one of the core mandates that we have been given by member states including the government of Ghana …we do procurement exceeding a billion dollars annually and we are interested, as part of the SDGs, to ensure that no one is left behind," she said at the opening of the two-day United Nations Office for Project Services(UNOPS) Possibilities Forum in Accra.
Over 70 percent of procurement and businesses are done by MSMEs, but most times they do not have access to these big opportunities out there with the UN, government, or even with suppliers to multinational enterprises.
"As part of our contribution to the SDGs is to equip SMEs with the capacity to be able to engage in business and engage in a way that is sustainable. We are therefore running this event in collaboration with Ministry of Public Procurement (MOPP) and the Legal Resource Centre to ensure that MSMEs have the requisite capacity to engage in business to be able to achieve the vision of government's Ghana Beyond Aid," she added.
Minister of State in Charge of Public Procurement, Sarah Adwoa Safo, indicated that the forum is targeted at local Micro, Small and Medium Enterprises (MSMEs) with a focus on women and youth-owned business.
The collaboration between the Office of the Minister for Public Procurement and United Nation Office for Project Services (UNOPS) is to train and build the technical capacity of local Micro, Small and Medium Enterprise in Ghana.
MSMEs contributes approximately 70 percent to Ghana's Gross Domestic Product (GDP) and account for about 92percent of businesses in Ghana.
The two day event is to inspire entrepreneurs to realize their potential to fully take advantage of the opportunities available in government procurements.
Furthermore, the Minister stated that at the end of the programme, participants will learn about how to participate in over US$1billion worth of public procurement opportunities in Ghana and around the world, meet and discuss their products or services with public procurement officials from the hosting organization and others.
Also, SMEs can share knowledge and best practices about doing business in Ghana and be inspired about entrepreneurs that have made it.
The United Nation Office for Project Services (UNOPS) is an operational arm of the United Nations. They have been providing support in five major service areas: infrastructure, procurement, financial management, project management and human resources.
Chief of Staff, Akosua Frema Osei-Opare, lauded the initiative and added that the objectives including developing local networks with like-minded individuals and opportunities for business creation and employment were in order.
"These building blocks I believe will inspire real life success stories from learning entrepreneurs and motivate them to realize their potential through a commitment to adherence to best practice and participate in procurement opportunities," she said.
Deputy Trade Minister, Carlos Ahenkorah, also commended the initiative and urged UNOPS to join forces with the MOPP to help champion a legislation to compel government agencies to secure goods locally. He added that the Ministry has introduced a scheme aimed at providing financial support to start ups and urged the youth to take advantage of it.