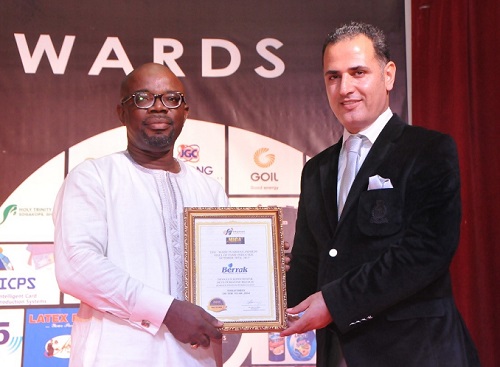 Nominations for the sixth edition of the 'Made in Ghana Quality Awards and Exhibition' have opened in Accra. The awards, to be held in August this year on the theme 'Promoting Industrialisation, the key to job creation and Economic Development', the theme is in line with government's vision to industrialise and create jobs through the One District, One Factory initiative.
The award will honour 40 most-celebrated Ghanaian personalities and outstanding 'made in Ghana' products and services for the production of quality products and delivery of efficient services. The deadline for entries to be submitted for the sixth edition of the Made in Ghana Quality Awards 2019 is 30th April, 2019.
The Awards are an initiative of Entrepreneur Foundation of Ghana (EFG), endorsed by the Ministry of Trade and Industry and Ghana Standards Authority.
The sixth edition of Made in Ghana Quality Awards 2019 is a shortlist of celebrated Made in Ghana products and services which have exhibited excellence in manufacturing practices and quality service delivery
The Made in Ghana Quality Awards 2019 will also recognise Regional Business Icons as the business pride representing their native regions, and non-Ghanaian Business Icons as the business pride representing their various countries – deserving of praise and commendation for their exceptional contribution in job-creation and socio-economic development in Ghana.
The purpose of the awards is to promote, advertise and market quality products and services in the country, in an effort to create awareness and increase the products' credibility on international markets.
The Product assessment criteria for the nomination will be on the basis of four parameters that demonstrate overall product superior quality, product labelling/packaging, product competitiveness and product standard certification.
The Service assessment criteria for nominations will on the basis of three parameters that demonstrate overall quality service delivery, competitiveness and innovation.
The Personality categories include: Regional Business Icons, Non- Ghanaian Business Icons, Industrialist of the Year, and Quality Leadership Award.
The Product categories include: Product of the year, Emerging product, Start-up, Indigenous product, Lifetime product, Mineral & Sachet Water, Food & Beverages, Textile & Garments, and Building Materials.
Others are: Pharmaceuticals/Herbal products, Alcoholic and Non-alcoholic products, Rubber and Plastics products, Toiletries and cosmetics products; Wood and Furniture, Aluminum products, Electrical and electronic products, Poultry products, Tissue & Paper Products, and Shoes and Bags.
The service categories are Service Industry of the Year, Indigenous Financial service of the year, manufacturing Company of the Year, non-financial service, hospitality and Tourism, print-media and Business group, information technology and Telecommunication services.