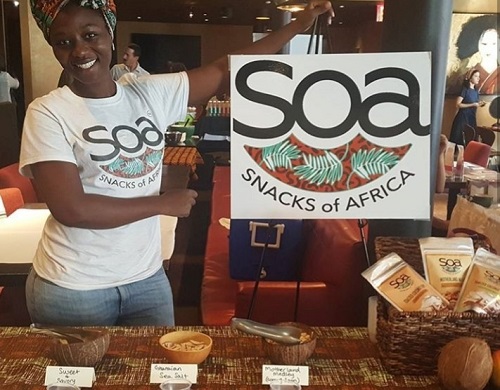 She had it all but eventually gave it up, because as it is said "home is where the heart is". As someone who grew up a New Yorker, life was comfortable for her in the states. Having a job as a banker, she really didn't need anything else to make her comfortable. However, young Stacey still saw a missing link in her life. As a true African, she decided to go back home and start a business using resources from Africa. Today, her products are making the rounds all over Ghana and even beyond. Enjoy the story as she shares with the B&FT's Inspiring Startups.
Stacey Enyame originally comes from the Western Region of Ghana but was born and bred in New York, United States. She has a degree in Business Administration from the University at Albany, SUNY. After completing university she had a job with a bank, but for some curious reasons she was not feeling any satisfaction with her job and living in the U.S. any longer – so she decided it was time to go back home and start life in a fresh environment where she believed opportunities abound.
In 2012 she came back to Ghana and found employment with Acumen, a social enterprise aimed at helping SMEs boost their capacity. Her job was to identify potential investments and do due diligence before recommending them for assistance. It was through these duties that she was inspired to start her own enterprise, especially, in agribusiness.
SOA is birthed
Stacey resigned from her company, and for a whole year she experimented and researched into fruits to see how best she could make snacks from them. Finally, she settled on coconut because of its availability all-year-round. She found a suitable packaging, got a reliable and constant supply of raw materials, and read widely about the properties of coconuts, among others. In fact, she made sure she knew everything about what she was going to do before committing any resources into it. Then, she applied for the needed certification from FDA and registered her company with the name Snacks of Africa (SOA).
Today, a business in which she started selling just in a friend's café finds itself in more than 70 shops across the country – including Game, Shoprite, Maxmart, Vidae Café, Ernest Chemists and many more. Above all, she also exports them to the U.S. and Italy.
And she has also been able to provide employment for 20 people.
For Stacey, SOA stands out from its competitors on the market for two main reason— product quality and attractive packaging that can keep products on the shelves for nine months.
Vision
The vision of SOA is to be a premier brand that uses Africa's own resources to make tasty snacks and show the world what Africa has got to offer.
Challenges
Like every startup business, the challenge of adequate capital doesn't elude her. For a budding company that is just two years old and has managed to export its products outside the country, she needs adequate capital to meet the growing demand. But, for now, she must rely on her sales alone to do so; and this is making her miss some big opportunities out there.
How she markets her products
Besides having her products in shops, Stacey relies on social media for advertising and selling them. Again, word of mouth advertising has also worked as she gets a one-on-one opportunity to speak with clients for immediate feedback. Also, exhibitions have been another powerful platform for her to market products.
How education has helped
Education and her exposure to the banking sector has really been helpful to her. Because the banking sector has a lot of structures in place, working there for some time has made her appreciate how to put in place the necessary structures to make her business successful.
Again, because she has some knowledge in accounting and management it has made her appreciate the value of book-keeping in her business.
Her views on economic empowerment of women
For Stacey, there is no reason why women should not be economically empowered giving its advantage it has for the economy in general.
"When women are given the empowerment and opportunities they need, they perform at the highest level. When they have the economic freedom, they take care of the entire household. I have seen it in my business where over 70 percent of the employees are women".
Government's role in helping SMEs
One way in which Stacey suggests government can help grow SMEs is by providing business linkage platforms using the One District, One Factory initiative – whereby smaller companies can be suppliers to some of the larger companies under the initiative.
Again, most SMEs, she says, are not aware of government programmes tailored to support them, so there is the need for much advertisement and education to be done to create awareness about the existence of institutions such as the National Board for Small Scale Industries (NBSSI).
Then, she adds, capital should also be made available and easily accessible for startups so they can expand when their business is growing.
And regarding human resources, she thinks government should help SMEs by posting some of the national service personnel with them – not at the companies cost, but government's – so that they can have qualified people to work with during the first few years of their establishment.
Advice to the youth
"I would say young businesses should have patience for the businesses to grow, and be passionate about it. They should be 100 percent focused and take their jobs seriously, and that will build the skills they need for their entrepreneurship journey."
Contact: 054 220 6330