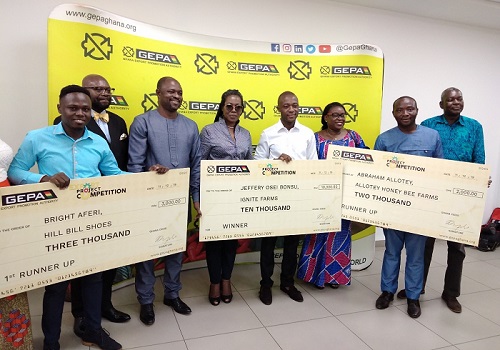 As part of events to commemorate it 50th anniversary, the Ghana Export Promotion Authority (GEPA) has awarded three young entrepreneurs with cash prizes to encourage them to work hard.
The second runner-up was awarded GH¢2,000; the first runner-up was given GH¢3,000; and the overall winner walked away with GH¢10,000.
Speaking at the awards ceremony, CEO of GEPA, Dr. Afua Asabea Asare said her outfit is committed to helping young entrepreneurs expand their markets outside the frontiers of Ghana, hence launch of the competition.
"We have resolved as an institution to begin inculcating export awareness and knowledge in our youth, so that more of them can succeed in doing this in the short- to medium-term. If we can succeed in doing this, the effect and impact on our revenue will be significant. I am pleased to note that we have begun this journey with the launch of this competition," she said.
She further congratulated the winners and encouraged other young entrepreneurs with brilliant ideas to reach out to GEPA for the necessary assistance to move their business to the next level.
Commenting on the competition, the overall winner, Jeffery Osei Bonsu, said the award has come as a great chance and opportunity to empower the youth and let them know the future is bright for entrepreneurs, and so they should work hard and introduce innovative products to be on top of competition.
Bright Aferi, who emerged as the first runner-up, also said the competition has been an eye-opener and given him the needed exposure as an entrepreneur. He added that the competition has also put him in the good books of GEPA, and he is hopeful he'll be provided the needed help to expand his business.
The second runner-up, Abraham Addo-Ansah Allotey, thanked GEPA for organising a competition that has recognised the hard work of young entrepreneurs and provided an opportunity for them to promote their products abroad.