As is mostly expected, a graduate's first dream after school is finding a job – and a good one of course. Yes, Abisiga had that dream come true but eventually gave it up for something she loves—cooking. Today, she is known for her famous pepper-sauce which is a delicacy in many homes. Read on as she shares her journey to entrepreneurship with the B&FT's Inspiring Startups.
Abisiga Akusoba Aguri is originally from Pusiga in the northern part of Ghana, but spent most of her early life in Nigeria where she had her primary and secondary education. She furthered her tertiary education at the Central University College and graduated with a degree in Banking and Finance.
After completing university, she did an attachment with a bank for a few months before getting a permanent job in a real estate company, where she worked for almost two years.
Coming from quite a large family of seven, and a hospitable one as well, Abisiga just naturally developed an interest in cooking as her family always loved to host people in their home. It is this hospitality attitude that eventually gave birth to her business.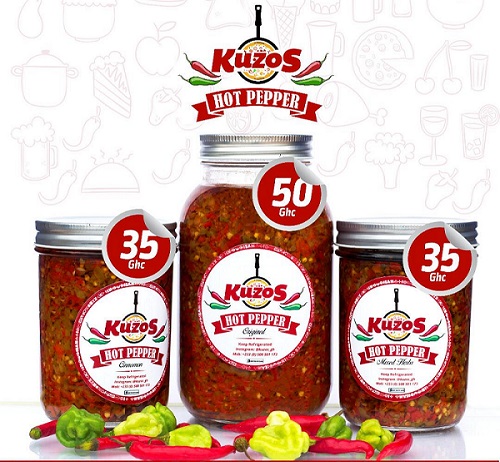 Birth of Kuzos Hot Pepper Sauce
Abisiga has acting as her hobby and was part of a drama group. One day, while at rehearsals with the drama group, there came an opportunity to show her cooking skills when her group members were hungry and needed just anything to eat, and then she decided to put together a meal for them. She made something with chicken, which her colleagues loved. People who knew her started asking her to cook for them, which she did on weekends when she was off work. And that was how it all began.
While in the habit of making time on weekends to cook for friends who asked her to, Abisiga said she got tired of having the fresh peppers she used in cooking go bad all the time. She always wanted her pepper fresh, and often it was either they shrunk in the fridge or were not in a good state for use when she needed them.
Frustrated, she recalled how two years back a family friend whom they visited in Burkina-Faso prepared a sauce that she enjoyed. She then went back in her memory to recollect the recipe and was able to make it. After a couple of trials and tasting by friends who loved it, recommendations and orders started coming in – to her surprise. After trying it for three months, she decided to commercialise it.
Combining her regular job and her new-found business started becoming burdensome and frustrating. So, finally, she called it quits with her former employers to focus on Kuzos pepper sauce full-time.
"It was a real struggle quitting my job, and most of my relatives didn't understand why with all my education I wanted to leave the corporate world just to be in the kitchen and cook. It was difficult but I finally resigned."
Today, aside from the flagship product which is the pepper sauce, she also does sandwiches, salads and different chicken meals, and she says the business is growing well – just as much as her abilities have grown to want to do more.
"At the moment, I have people that buy in bulk and send them out. Apart from that, there are hundreds of other individuals that I supply to; and I mostly produce based on orders so that the products stay fresh."
Kuzos Hot Pepper Sauce is not like the regular black-pepper 'shito' that is available on the market. It comes in four different forms and flavours; the original, mild, mixed herbs, and cinnamon. The sauce can either be added to everyday cooking processes or enjoy with food as a side.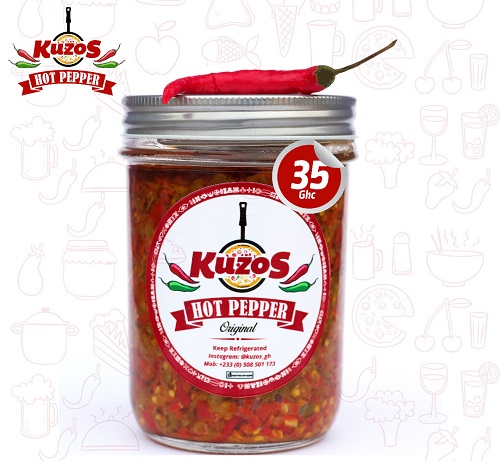 Vision
Kuzos has a vision of serving healthy fast foods which incorporate different cultures and flavours from different parts of the world.
"I have had the opportunity of travelling to different places, and that has influenced my cooking in so many different ways; and I've always wanted to show people what we are missing from certain parts of the world.
"In our part of the country, there are eateries springing up every day; but when you walk in, they are all doing the same thing. The plan for Kuzos is a place where you can get healthy fast food, but not the usual way in which it's done. It is actually to bring out foods from other countries through smaller meals like sandwiches, salads, among others that you really want to eat on-the-go, by infusing all the cultures and flavours to get a unique version."
Challenges
As is always the case for most startups, finance remains a challenge. Abisiga says sometimes it becomes difficult to meet customers' requests for different recipes due to lack of adequate finance. Also, the company needs capital to invest in good cookwares and a place to set up, as it currently operates from home.
Another challenge, she noted, is the lack of self-belief among some Ghanaians about locally-produced products. Sometimes, people look at the products with microscopic eyes just because they are made in Ghana.
How gov't can help
Abisiga wishes that government would organise seminars which would bring together experienced women to serve as business coaches and guide young women entrepreneurs.
"When I started my business, I reached out to a lot of people in the industry, most of whom are women, to coach me on how to go about things. But, unfortunately, nobody was really willing to help. So, seminars that could pull together young ladies to be empowered would be really helpful."
She also urges government to establish some sort of arrangement to invest in women which have solid business ideas and give them time to pay back, as that would really go a long way to help them.
How education has helped
Education, right from primary and secondary through to tertiary has helped her business in diverse ways, in terms of managing her finances and making informed decisions.
Her views on economic empowerment for women
"We are in a fast-paced world, where women are empowered to do just as men do in the business world. But I am of the understanding that a woman is a woman and there has a to be a balance in life, and I feel it is really necessary to at a point notice that it is important to not just work, but to work efficiently and effectively so that you still make time for other responsibilities at home, such as caring for your children."
Advice to the youth
Abisiga believes that an idea is a raw material, and anyone who has one should build it up into something useful and not listen to people who discourage them.
Contact Kuzos on: 0508 501 173