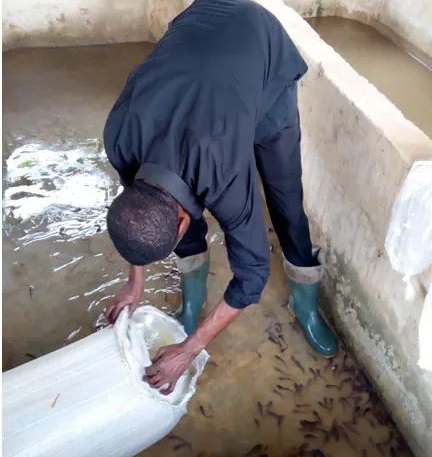 Every problem has a solution. Only it takes a genius to identify that solution. When Mark identified a sanitation problem in his community, he didn't stand aloof but rather went to look for a workable solution that would not only tackle the problem but also become a source of livelihood for others. Read as he shares his experience with the B&FT's Inspiring Startups on how Trimark Aquaculture Centre is making a difference in a town in the Ashanti Region of Ghana.
Mark Yeboah-Agyepong is the founder of Trimark Aquaculture Centre. He is a product of the Kwame Nkrumah University of Science and Technology, where he has acquired first and second degrees in fisheries and aquaculture. He is currently studying for a PHD at the same university and hopes to graduate in three years' time. He has worked with Waste Enterprisers—a U.S company, and International Water Management Institute as a research consultant. In 2017, he resigned from the company to start his own project. Why? His sense of responsibility to his community moved him.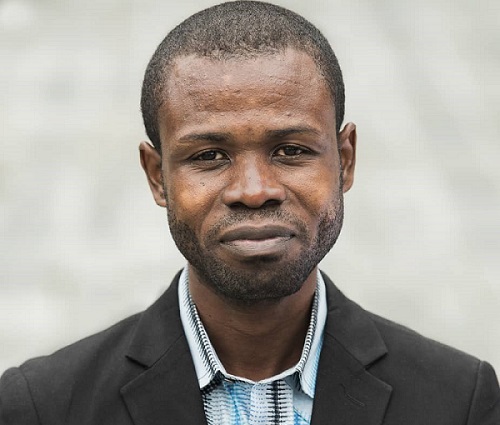 Mark was basically motivated by three main reasons: first is the quantity of waste water that is disposed indiscriminately into the environment. The second reason is breakdown of the water treatment plant owned by the Kumasi Municipal Assembly (KMA). And lastly, he wanted to find a way to increase the local supply of fish. With these three challenges in mind, he developed a model that would address all of them at the same time.
Trimark Aquaculture Centre comes alive
Mark pitched his idea with the KMA to use their existing treatment plants and ponds, which were broken down for years and had not been repaired due to lack of funds. When the KMA agreed, Mark – with the help of research from his two former employers – designed a model that traps waste water from the community into the ponds.
The ponds are five in all—with each pond treating the water until it gets to the fifth pond where it is fully purified and can be safely discharged into the stream which serves as the main source of water for the Ghana Water Company Ltd.
To keep the business running, Mark decided to use the fourth and fifth ponds which contain the purified water to rear fish in order to use the proceeds for maintaining the treatment plants.
So, with this model he has succeeded in turning waste water from the community into useful water; get the treatment plants back to work; and start a fish farm that supplies the community with fresh fish.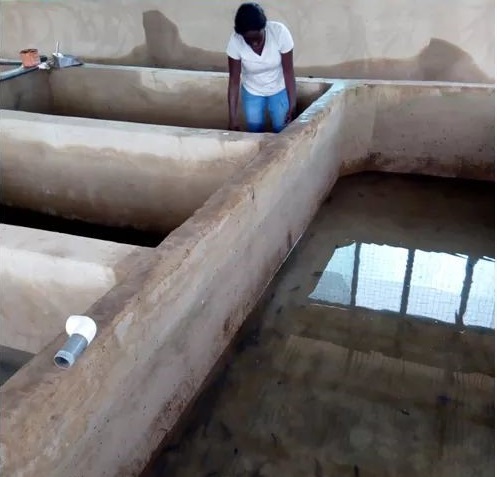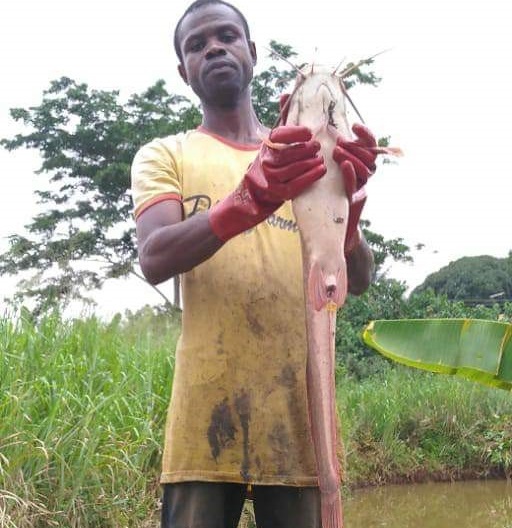 Vision
In the next five years, Mark wants to replicate this model in other cities across the country where these treatment plants already exist but have broken down and are not in use. However, his long-term vision is to move this idea to other African countries.
Challenges
One of the challenges that he encountered was getting fingerlings for the fish farm. Getting the desired quantity became difficult for him. But Mark will always find a way out of any difficult situation he meets. He created his own hatchery which produces the fingerlings for his company.
Another challenge was dealing with the mentality of people. Some in the community didn't find it comfortable buying fish from a pond that is used to treat waste. They felt it may have health implications for them, even though various tests had proven that the fish are wholesome for consumption.  To overcome this challenge, he devised a strategy. He used the fish from the pond as a brood stock that supplied the hatchery with eggs.
After they are hatched into fingerlings, he transfers them to a concrete tank he has created to grow the fish. This tank taps its water from an underground well, and so people who feared the fish in the ponds were not wholesome for consumption now no longer entertain such fears.
Lastly, too many bureaucracies at the Assembly continue to be a challenge for him, as they slow down the project's progress.
How education has played a role
For Mark, his educational background is essential to everything that matters in this project. If not for his knowledge and exposure in aquaculture, he wouldn't have had the idea to use this model for addressing a problem in the community.
The role GCIC has played
The Ghana Climate Innovations Centre (GCIC) has helped Trimark Aquaculture Centre to redesign the treatment plant to accommodate more fish than currently produced. Mark says this will further improve the water quality and lead to a more than 50 percent increment in fish production.
How government can support entrepreneurs
Mark thinks the time has come for government to put in place polices that will encourage green businesses. He feels that one way government can do this is to set up a fund specifically for businesses that are protecting the environment through their operations and projects. This, he said, will motivate many investors to turn attention to green businesses, as the lack of incentives do not attract them to it; especially because going green is expensive and has low turnovers compared to profit-oriented businesses.
Besides setting up a fund purposely for them, Mark says government can also offer green businesses some tax exemptions that will eventually reduce their cost of operations.
Advice for young entrepreneurs
"I would advise young entrepreneurs to keep pushing hard their ideas, and one day a large door of opportunity will open for them. They shouldn't be scared of financial and cultural barriers, which is something they will always encounter."
Contact: 024 661 1091