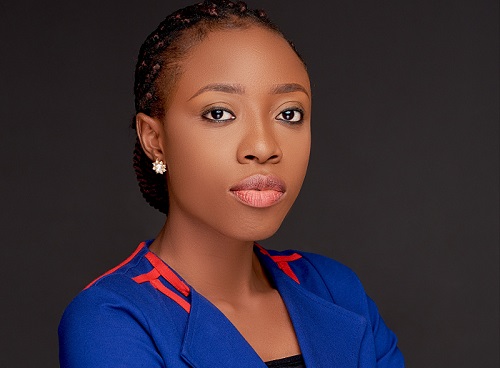 I loved writing as a child but that passion died immediately I got into the university to study Accounting. My dream was to finish school and become a banker.  After the National Youth Service Corps (NYSC) which is mandatory for all Nigerian graduates, I couldn't get a 9-5 job.
I almost got a job in a micro-finance bank, but I lost it. I was to report at work from Monday to Saturday very early and close late in the evening, yet the salary was little. But I was happy to manage it and start something that would take me out of the house daily. On the day I was happy to resume, the job was terminated. I got so unhappy and unfulfilled being idle. Thousands of graduates are produced every year, but the jobs are not enough for everyone. Then, I thought "Where do I go from here?"
Soon, I realised that the passion I had for writing shouldn't just lie there. I decided to turn my hobby into a business. Today, I have published bestselling books and helped others publish theirs. The story is totally different now as I consult for bankers, lecturers, consultants, business owners, HR practitioners and other professionals. I now lead thousands of writers in my organisation called Brilliant Entrepreneurs and Writers Academy (BEWA).
I have learnt lessons from my journey to becoming a successful entrepreneur and I will love to summarise them into 5 major categories:
Failure is an asset.
According to Bills Gates, "It's fine to celebrate success, but it is more important to heed the lessons of failure." There is no shortcut to success. There is always a process to be followed. So, when failures and rejections come, that's the perfect time to re-strategize. When my dream job was not forthcoming like I expected, I didn't sit to cry alone, although I cried because it was painful. But after the tears, I got up, rolled up my sleeves and got to work. I capitalised on that pain to embark on the journey of self-discovery and business clarity. That decision has helped me crush bigger goals. Indeed, failure is an asset; it's only your destination if that's what you think it is.
Start with what you have and where you are
A lot of young people are afraid to start something with their lives. Perhaps, they are waiting for someone out there to sponsor their dreams. But what happens when nobody does? I started out as a primary school teacher. It was below my educational qualifications. However, I was determined to start somewhere, knowing I won't be there forever. You don't have to be comfortable being idle. You can start something to raise money to fund your real dreams.
Often times, people claim to be looking for capital to start their business. This is no longer a valid excuse, especially in a year like 2019. You can start any business of your choice using the Internet effectively. An online business will only cost you data and a phone that allows you browse. Everyone has access to the Internet nowadays. You can take advantage of this instead of scrolling randomly on social media. Since I started building my online business, i have been able to work with clients outside my home-country, Nigeria. Social media marketing is a necessity.
Becoming an author brings you more benefits
Write your own book. Book publishing is a competitive advantage. If you are a business person, it's important to create published assets. Apart from leaving a legacy for your generation, you achieve expert status in your chosen niche.  This boosts your business and your clientele, even if you already have a strong audience. You can also publish your books on international platforms like Amazon to reach the foreign market. Content creation is very important for every entrepreneur and it must be done in the right way. For example, to further establish myself as a book project consultant even though I was actively consulting early on, I wrote my book: From a newbie to a highly paid author. That's content creation. And the results have been awesome. You too, can write a book that boosts your career.
Never depend on only one source of income.
Wealthy people understand the relevance of multiple streams of income and investments. If you work 9-5, it's wrong to depend on your salary alone. What if you lose that 'one' job? Would you start from square one and begin to beg? It doesn't matter if you are saving some money, build a business that doesn't contradict your organisation's regulations. If you don't have a job yet, don't depend on your rich relatives. If you have a dream, don't wait to get financial support before starting. Get a life because they might get tired of you in no time. Remember they have their own families to cater for.
For example, if you have a book project at hand or you intend becoming a successful author, leveraging published assets, then never hope on fat envelopes via a physical book launch. You may be disappointed. If fat envelopes come, fine! But that shouldn't be your focus. Instead, map out marketing strategies that don't shoot you in the foot. This varies project to project. Depending on your niche, craft templates peculiar to your projects for maximum results.
A lot of authors are going into debts trying to organise a book launch with the hope of getting cash gifts. Don't do this to yourself. Get it right from the outset. I am not saying that a physical book launch is bad but try to get your objectives clear to avoid stories that touch the heart. If you put things in place appropriately, the same people will offer to pay you even bigger.
Find a hungry market
Lastly, don't create products before looking for buyers. Look for buyers before creating products in order to serve a ready market. A lot of entrepreneurs jump into creating logos, sales letters and different products without a survey; then they wonder why they are not making sales. This is why: you are creating products that you think people want, not what they really want. And if they don't want it, they won't buy. I learnt this in my business and it has been a positive impact. You can implement this in your own business too.
Conclusion
I believe that Africa is blessed with intelligent minds. We have to explore our gifts and reach out to humanity, as we also set intentional goals on our vision boards. Anyone can achieve greatness, irrespective of their age. I dream of a continent where big dreams are birthed and people, young or old, are equipped for business success.
The author is a Nigerian Author & Consultant)