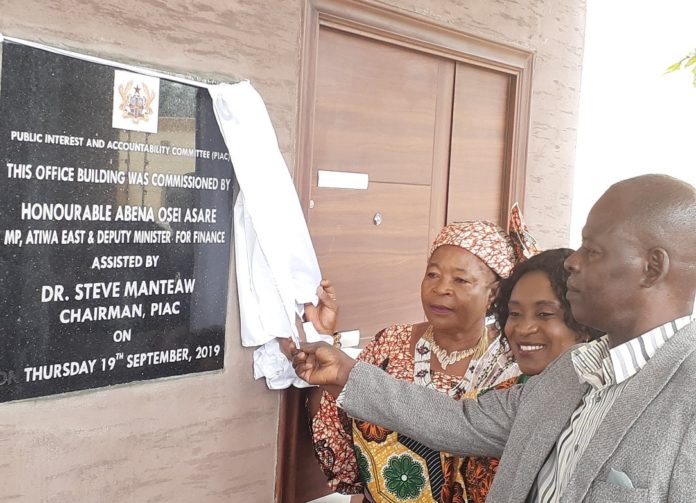 The Public Interest and Accountability Committee (PIAC) has stated that in the coming weeks it is ready to bring to book institutions and individuals involved in five cases of phantom projects and shady work identified and investigated.
Merely six months after signing an MoU with the Economic and Organised Crime Office (EOCO) that granted PIAC prosecutorial powers to take action against fraud and criminality issues found in its reports, five cases of shady work and phantom projects are available to be prosecuted in court.
Chairman of the PIAC, Dr. Steve Manteaw, indicated that in the past citizens have expressed concern about the seeming lack of action on cases cited in PIAC's reports, especially fraud and administrative injustice – which led to PIAC entering into a pact with EOCO in April 2019, for the purpose of investigating and prosecuting offenders.
"Now we are ready with our first five cases, and in the coming days we will be informing Ghanaians of these cases and refer them to EOCO for prosecution. A lot of it has to do with phantom or ghost projects, in which oil money has been allocated but work has not been done; meanwhile, some of them has it in government's record that work has been completed, but in actual fact nothing has been done.
"There are also other projects based on shady works, because if you look at money allocated and work done, it shows that, clearly, the state has been short-changed. And for each of these cases there are specific issues we are raise for prosecution," he said.
Dr. Manteaw made this statement at the official launch of a GH¢1.8million office for PIAC, located at East Legon. The one-story building is to serve as offices for the various committee members and staff of PIAC, to enable them deliver efficiently on their mandate without any political interference
Deputy Minister for Finance, Abena Osei Asare, speaking as the guest of honour encouraged PIAC to take advantage of the facility and deliver on its mandate judiciously to benefit the general public.
"In 2017, when PIAC met with President Nana Addo Dankwa Akufo-Addo, they presented their petition in which accommodation was their major challenge; and government directed the Ministry of Finance to make a budgetary allocation for PIAC in the 2018 budget – which is the result we are seeing today.
"Government is committed to deepening transparency and accountability, not only in the petroleum sector but in all sectors of the economy; and government will continue to work with other state and independent institutions to achieve that," she said.
PIAC was established in 2011 by Act 815, with the mandate to monitor and evaluate compliance with the Act by government and other relevant institutions in the management and use of petroleum revenues and investments as provided by the Act; to provide space and a platform for the public to debate whether spending prospects, management and use of revenues conform to development priorities as provided.
The establishment of PIAC, a non-political citizens-led oversight body, has paved the way for ordinary citizens to receive regular information on the use of Ghana's petroleum revenues.
The work of PIAC over the years has focused on key principles: such as revenue transparency; elimination of corruption; companies' compliance with statutory payments; and judicious use of extractive sector revenue to reduce poverty and promote national development.