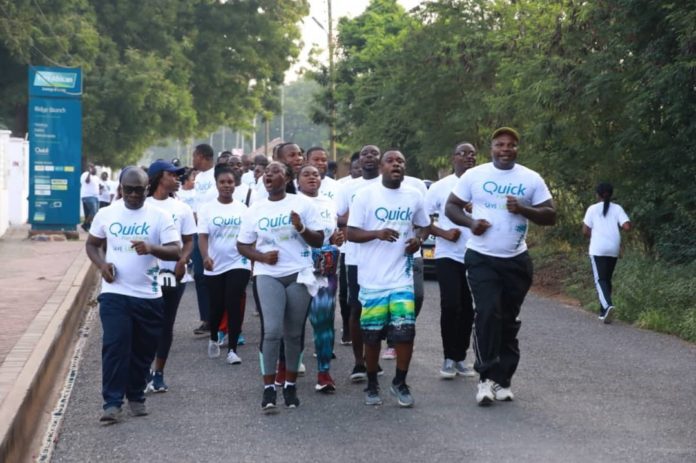 Pan-African Savings and Loans Limited has organised a health walk and fun-games for its staff as part of activities to highlight its mobile financial services product.
The product, which is known as 'QUICK' was re-launched recently.  The product has been enhanced to be more user friendly and more convenient with the introduction of agency banking.
Speaking to the Daily Graphic after the walk on November 23, the Head, Corporate Affairs, Research & Customer Service at the Company, Mrs Linda Naykene, said the event was held for staff in the Southern sector which comprises of 12 branches in the Greater Accra Region, Bawjiase and Nsawam.  The event will be replicated in the Ashanti and Ahafo Regions.
"Apart from organising events for our customers, once in a year we try to organise a staff event to promote socilisation, communication and enhance the team spirit among staff team building.
Increasing visibility
Mrs Naykene said the annual walk is usually used to highlight the company's mobile financial product.
"The platform can be accessed via a short code (*777#) and is a channel for customers to access their bank account from any location at any time, basically increasing the convenience for customers.
One can withdraw money, make direct transfers, top up airtime, pay bills, get mini statement and access short term loans up to GHC500 payable within a month," she said.
Touching on the new features, she said the company has engaged a number of agents to make the service available to its clients.
"One may visit any of the 'Quick' Agents to help them register and perform transactions on the platform.  So instead of coming to the banking hall the agents are on the field and can provide assistance."
She added "we are looking at visibility, apart from dialing the short code, you can actually see these agents, making it easier for customers to relate to the product."
Highlighting activities for the year, she said Pan-African organised a business advisory sessions where customers were trained on good record keeping, a free health screening exercise for customers as well as donations to some organisations.
Incorporated on September 4, 2006, Pan-African is one the trusted and leading Savings and Loans companies in the industry. Pan-African is a member of the Ecobank Microfinance Group which is present in Cameroon, Burkina Faso, Sierra Leone and Nigeria.