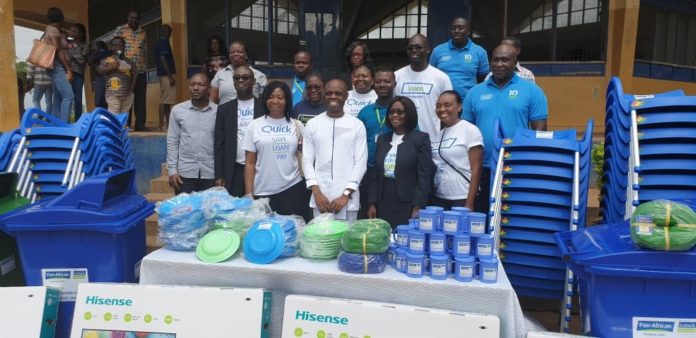 Pan-African Savings and Loans, a leading financial institution as part of its corporate social responsibility has donated items and cash worth GHC 15000 to the Demonstration School for the Deaf in Mampong-Akuapem in the Eastern Region.
Presenting the items, Ms. Emelia Atta-Fynn, MD, Pan-African Savings and Loans said the company was moved by the plight of the School and decided to come to their aid.
She said its CSR activities are focus largely on supporting institutions that develop children and the youth within the communities in which they operate.
"It is our hope the donation will go a long way to support the education and upbringing of our wonderful children who find themselves in this institution. Every child has something to contribute to society if given the chance, and the truest measure of any society is how it treats those who are most vulnerable," Ms. Atta-Fynn explained.
Mr. Annang-Yemoson Abraham, Headmaster, Demonstration School for the Deaf, thanked the company for its kind gesture and called on other companies to emulate.
Pan-African provides a 24/ service through the use of debit cards used on all Ecobank ATMs, an innovative "Quick" mobile financial services platform that allows customers to withdraw, deposit and transfer money to and from their bank accounts with Pan-African. Customers can also top up their phone credits with this service. This coincides with the country's goal of financial inclusion.