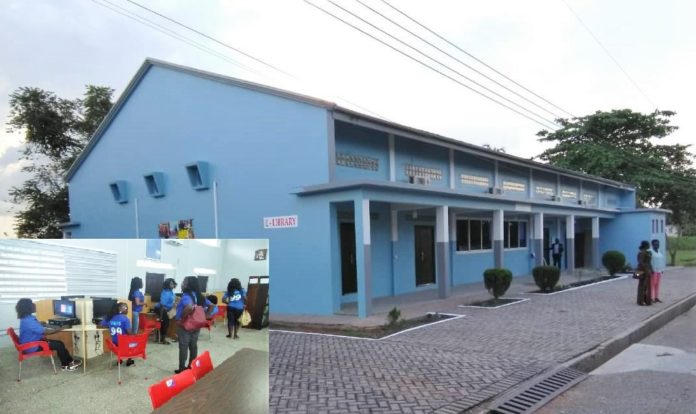 The 1999 Year Group of the Yaa Asantewaa Senior High School (YAGS) has renovated and handed over the library of their alma mater to a contemporary fully-air-conditioned electronic library (e-library), to enhance learning in the school.
According to the Group, the e-library facility which was also stocked with several reading materials, textbooks in addition to the computers is hoped to further enhance reading culture and research among the students on campus.
The visit of the past student which was marked with a homecoming ceremony, also involved a mentorship programme to help the students stay focused, in order to realise their academic goals.
Addressing the students at the brief ceremony to handover the project, the President of the 1999 Year Group, Mrs. Esther Obeng-Dapaah, said the experiences they acquired during their time at the school, some 20 years ago, is what has helped them to become who they are in society today.
Mrs. Obeng – Dapaah in reference to the theme for the event, "Inspiring our future through reading," said reading helped to broaden their minds and positioned them to gain a better perspective of the world.
Dr. Doris Akyere Boateng, a lecturer at the University of Ghana, told the students that their belief in the power of education was also a motivating factor in their decision to undertaking the project. She, therefore, urged the students to use the library for its intended purpose.
The Headmistress of Yaa Asantewaa Girls, Ms. Asunade Eshun-Famiyeh, while commending the 1999 Year Group for the gesture also entreated them to continue with their support.
She observed that the school has changed, but the values remain unchangeable. She noted that the library is very important in the lives of students noting particularly that it will help the students to be creative and innovative.
Ms. Eshun-Famiyeh, therefore, encouraged the students to use the facility for its intended purposes.
The Library Prefect of Yaa Asantewaa Girls, Oheneyere Konama Agyapong, on behalf of the students expressed her delight for the gesture by the 1999 Old Girls Group.
She acknowledged that the e-library will help the students a lot since they could, for instance, enhance their knowledge ICT with the availability of the computers.
She said knowledge comes in diverse forms and most of the knowledge is on the internet and therefore said they were grateful to the former students who saw the need to give them a well refurbish library stocked with computers and other teaching and reading materials.
This she contended that this will help them to get information at the snap of their fingers.