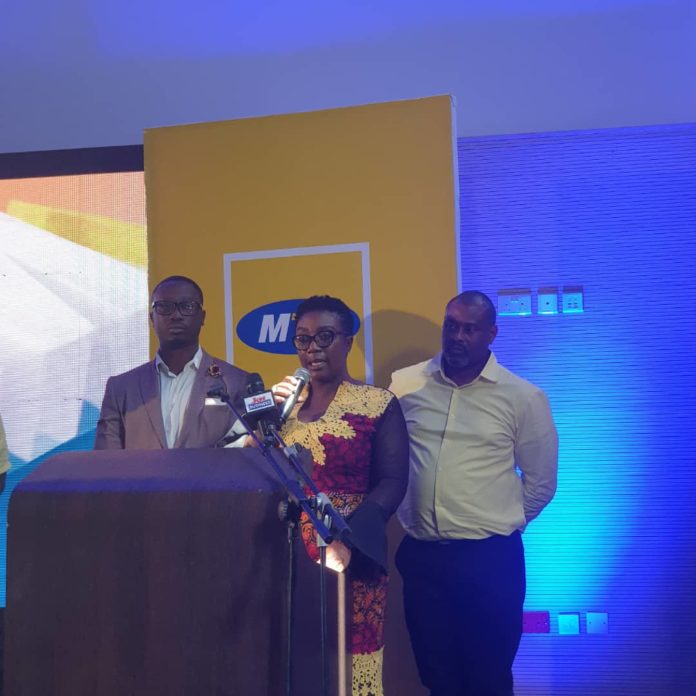 Telecommunications giant, MTN Ghana has launched a campaign which will which will empower customers to choose a project they want implemented in a community of their choice via MTN's social media handles.
The initiative dubbed 'Brighten Your Community' being championed by the MTN Foundation will be run via the company's social media handles: Facebook, Instagram and Twitter.
The campaign officially starts on Monday, December 2, 2019, and ends on Monday, December 9, 2019.
Speaking at the launch, acting Corporate Services Executive of MTN Ghana, Georgina Asare Fiagbenu, said the campaign is to ensure customers support MTN Ghana to extend help to deprived areas in our country.
"We are taking this unique and participatory approach because this year has been declared 'Year of the Customer' and as an innovative brand,  the board has given approval to involve our customers and give them the opportunity to directly choosing a project they want implemented in a community of their choice.
'Brighten Your Community' initiative is a national campaign and all MTN customers are eligible to participate.  She noted that customers serve as key stakeholders and have contributed to the successes of MTN. however investing in the communities is done with a "national in mind and so the benefits goes beyond our customers.  For this particular campaign it is our pleasure to give the power to our customers to make the final decision."
She noted that, the nitiative will be heavily driven on MTN's social media handles, Facebook, Twitter and Instagram adding that the foundation is devoting an amount of GHC750,000 to be invested in the three focal areas of the Foundation which are Education, Health and Economic Empowerment. The three communities which come tops at the end of the competition will be allocated GHC 250,000 each to implement the projects.
Recounting the achievement of the MTN Ghana Foundation, Madam Georgina Asare Fiagbenu said the foundation has executed 147 projects executed, with an amount of USD 13 million which has impacted over 4 million lives, with many people in rural as well as urban communities now have access to improved healthcare.
"Thousands of expectant mothers can now deliver in hospitals close to their communities and many lives have been saved as a result of refurbishment and construction of hospital ward/blocks, donation of critical medical equipment among others. School children are also beneficiaries. Some schools structures which used to be in dilapidated state have now been refurbished creating comfortable and safe environment for teaching and learning", she stated.
Madam Fiagbenu again revealed that in addition to supporting with infrastructure, scholarships have been awarded for the education of hundreds of needy but brilliant children and teachers who wish to further their education in Math and Science at the tertiary and Masters Level.
She said MTN supported over 200 palm oil producers with a palm oil processing facility at Juaso in the Ashanti Region and recounted a Shea Butter processing plant which has also been  commissioned for Sung Suma Women's group at Kpaguri in the Upper West region.
Madam Georgina Asare Fiagbenu added that, the campaign is part of their corporate social responsibility to delight customers and brighten their corner as 2019 marks the 'Year of the Customer'.