The King of Morocco, Mohammed VI, has called on students in Africa to unite and work towards addressing the challenges facing the continent, in a letter addressed to the leadership of the continent's largest student group, All-Africa Students Union (AASU) and Ghana Morocco Old Students Association (GHAMOSA), an association made up of Ghanaian graduates from various Moroccan institutions.
The King while expressing his appreciation for the honorary title of 'Noble Change Ambassador' bestowed on him by AASU and GHAMOSA, encouraged the groups to continue promoting closer ties between Africa students.
King Mohammed VI was awarded the "Nobel Change Ambassador," in 2018 edition of the National Students' Award having been highly recommended by the largest continental students' group, AASU, and GHAMOSA.
The National Students' Awards is organized by the National Students' Alliance established by the leadership of all student groups in Ghana. The scheme in the past has honored educational ambassadors including former President John Agyekum Kuffuor and his predecessor Jerry John Rawlings.
In last year's edition, the King of Morocco, Mohammed VI, was also recognized for his immense contribution in educating Africa youths through his scholarship scheme.
The King through the Moroccan Agency for International Cooperation (AMCI) offers 100 percent scholarship to thousands of foreign students especially students from Africa. The aim of the scholarship is to strengthen the bond with international students.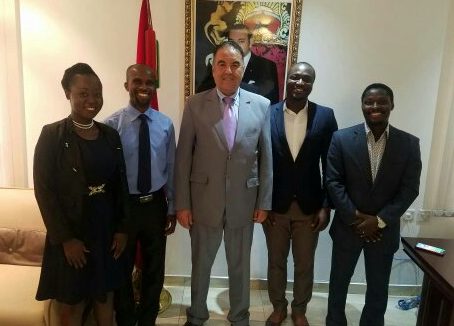 Presenting the King's acknowledgment letter to the leadership of these two students' groups, the Moroccan Ambassador to Ghana, Ambassador Mohammed Farahat, who has been the backbone of the partnership, also affirmed the Embassy's commitment to continuous.
He said, "The Embassy of the Kingdom of Morocco avails itself of this opportunity to renew to the All-Africa Students Union and the Ghana Morocco Old Students Association the assurances of its highest consideration."
In their response, the Secretary-General of AASU, Mr. Peter Kodjie, and the President of GHAMOSA, Mr. Peter Panyin Anaman, said they were grateful for the heart-warming letter indicating that it is a great honor for them to receive such letter from the revered King.
They said they were highly motivated by the King's kind gesture and pledged to do more to promote Africa Unity at their level as students and youth of the continent, and also thanked Ambassador Mohammed Farahat for his support.
"What Africa lacks is not resources but good leadership, and that is what His Majesty represents. Africa needs patriotic and visionary leaders, leaders who love their continent and care about its future. His Majesty is a perfect role module for us the future leaders of the Africa continent," they added.