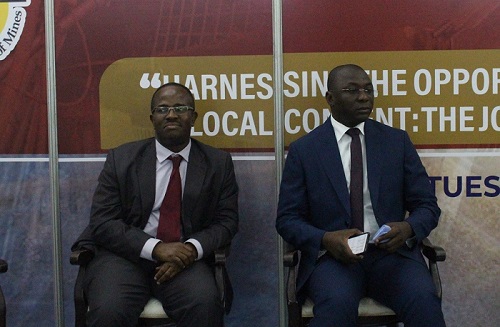 The Ghana Chamber of Mines (GCM) has organised a local content workshop to deliberate on procurement policy frameworks and best practices which will position Ghana as a hub of service to the sub-regional mining market
The workshop was aimed at stimulating interactive discussions to unlock the challenges inherent in implementing local content provisions and propose viable solutions going forward.
The Minerals Commission, based on Minerals and Mining (2012) General Regulations LI 2173, has issued a local content procurement list of 29 products which mining companies are to procure from local firms through a five-year procurement plan – but some mining companies have defaulted.
Collins Anim-Sackey, Head of Policy Planning-Minerals Commission, indicated that mining companies are to submit five-year local content procurement plans to the Commission – in which they are to set targets for procuring items on the list locally for the commission to approve, after which the companies must submit annual and semi-annual reports; and the reports indicated a downward trend in the curve.
"We have the data from 2014 to 2018, and in analysing the data we first look at total procurement then to local procurement, which includes what is being manufactured locally plus what is being supplied by local importers; and then we finally look at the true local procurement, which is purely goods manufactured locally.
"Most of the companies get the local procurement right, but when it comes to the true local procurement they are not meeting the targets due to some challenges raised by the companies – among which are safety standards, quality of product, and environment/health concerns."
In the past four years, from 2014 to 2018, local content procurement has not been consistent. In 2014, true local procurement generally stood at 77.99 percent but dropped to 52.31 percent in 2016; it managed to go up again to 63.49 in 2017, and dropped again to 59.31 in 2018 – a trend that the Commission indicates is worrying.
The well-known 29-product procurement list among mining sector players includes among others: cement products, electric cables, HDPE and PVC pipes, grinding media, general lubricants, emulsion (explosives), quick-lime and hydrated lime, and tyre re-treading
Held under the theme 'Harnessing opportunities within the mining industry's local content: the journey so far and way forward', the workshop was attended by all stakeholders in the mining sector – including regulators, mining companies, suppliers within the value chain, banks and government.
Alfred Baku, Vice President, GCM and Executive Vice President & Head of Gold Fields – West Africa Region, noted that the mining sector continues to be a key enabler of industrialisation and broad-based economic development in Ghana despite its confrontation with unique challenges, such as high cost of production, fluctuations in the gold price, environmental and security challenges, among others.
Mr. Baku stressed the overriding rationale for local content policy is principally business-driven, which is to develop a locally integrated business network that will lower the cost of production and create opportunities to spawn other businesses in support of national development
GCM's Chief Executive Officer, Sulemanu Koney, stated that local content is a critical factor in harnessing the inherent worth of the mining industry's value chain for broad based socio-economic development; hence the workshop's importance to intimate conversations needed for ensuring success in deepening the local content agenda.
"When local content procurement is implemented effectively, it will benefit mining firms by lowering stock holding to improve cash flow and working capital; improve competitive cost of inputs; and further ensure better after market service. The mining industry has spawned a number of local firms that supply products to the mining industry such as engineering services, grinding media, haulage services, security services among others."
Also present at the workshop were Dr. Mohammed Amin Adam, Deputy Minister of Energy in Charge of Petroleum, and Theophilus Otchere, Chairperson, Supply Managers Group.