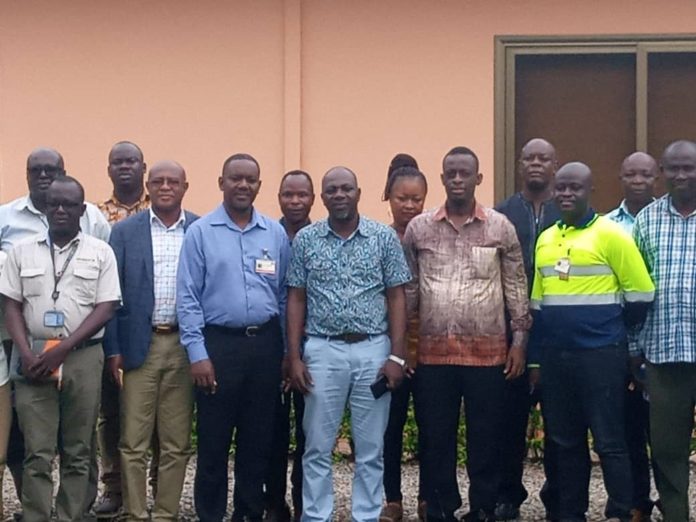 Kwabena Okyere Darko-Mensah, the Western Region Minister, has urged mining companies operating in the country to support communities in which they operate to make them prosperous.
"If they are the ones giving you the resources, then there is a need to invest and develop those communities; those small small corporate social responsibility (CSR) project, we have passed that. We cannot sit on these resources and continue to be poor," he said.
He emphasised: "Use the mine to change the communities, bring development; you cannot keep our people in poverty when there is so much abundance here on the land".
Mr. Darko-Mensah said this when he paid a visit to Golden Star Wassa Limited (GSWL), as part of the 3rd phase of his regional tour at Akyempim in the Wassa East district of the Western Region.
He noted that, consistently, more Ghanaians have taken over the management position in most of the mines; and this should change the paradigm of how things are done in the mining communities.
"Come out with a new mind-set that will be able to develop the people; the Regional Coordinating Council will help you to succeed. Do not hesitate to call on us when the need arises," he added.
Mr. Zakariah Issah, Community Affairs Manager of GDWL, mentioned that the company operates in four districts – Mpohor, Tar kwa-Nsuaem, Wassa East and Ahanta West.
Currently, he said, the company is into underground mining and operates within 12 communities.
He said GSWL contributes US$1 for each ounce of gold produced to promote Golden Star Oil Palm Plantation.
The plantation, he said, is on 1,225 acres with 244 workers, and also serves as an alternative livelihood for some of the community members.
He pointed out that between 2011 to 2019, US$87.8million had been paid as royalties.
On the untarred road leading to the company, he explained that: "The road leads to other districts close to our operational area, and GSWL spends US$300,000 a year on road maintenance.
He said illegal mining activities are still a challenge – especially on the company's rehabilitation site, and urged the security council to support in this direction.