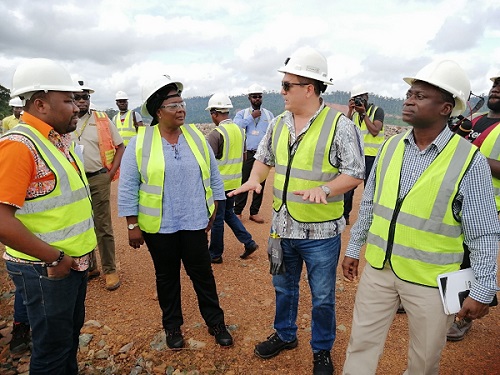 As gender issues continue to dominate all sectors of the global economy, the Deputy Minister for Lands and Natural Resources, Naana Eyiah, has called on mining companies to empower more women to play active roles in the mining industry, which has since ages favoured men.
She said while it is a fact that the local mining industry is dominated by men, mining companies should consider putting in place a policy to that will ensure at least 40 percent of their workforce is women.
The Deputy Minister noted such initiatives will create more opportunities, especially for young women in mining areas, while generally also empowering more women to break into 'career paths' that have largely been considered to be only for men.
Naana Eyiah, who was speaking in an interview at the backdrop of her visit to Kinross Chirano Gold Mining Limited at Sefwi Chirano in the Western North Region, also commended the company for ensuring women form about 17 percent of its workforce.
She acknowledged the company's contribution to both the local and national economies, and urged that a scholarship scheme be instituted with a priority on girl-child education.
The General Manager of Kinross Chirano Gold Mine Limited, Mr. Andriano Sobreira, took the Deputy Minister through operations of the company and also highlighted some of their community investment initiatives.
The company began operations in 2005 and had an initial life of mine (LOM) up to 2019, but has now sought an extension and will operate to 2025 – having recorded three million safe ounces in July 2019.
Mr. Sobreira was optimistic that the company will reach a target of four million safe ounces by the 2025 date.
In response to the minister's request to deepen the participation of women in mining, he disclosed for instance that Kinross Chirano Gold Mine has a policy that allows mothers to bring their babies to the campsite after birth. This, he said, is meant to promote mother and child relationships after exhausting maternity leave.
Additionally, he said, there is a 'Women in Mining Club' that periodically embarks on outreach programmes. He noted this is part of the demonstration that Kinross Chirano Gold Mine is a 'women-friendly' mine.
Mr. Sobreira is hopeful that with support from the Ghana Chamber of Mines and government, mining companies can realise the 40 percent women workforce in the future when the mining environment becomes more accretive to women.
Already, Chirano Gold Mine Limited has undertaken a number of initiatives that promote the welfare of children within its catchment areas. It is hoped this will help promote the education of children and especially the girl-child.
The General Manager of Kinross Chirano Gold Mine Limited, who is also the Second Vice Chairman of the Ghana Chamber of Mines, is also optimistic that the engagement with government on the withdrawal of military from companies will be successful.
The Deputy Minister was on a five-day working visit to some selected mining communities in the Central and Western North Regions.
It was among others to sensitise women and children alleged to be engaged in illegal mining and prostitution in the mining areas.
The General Manager of Kinross Chirano Gold Mine Limited, Mr. Andriano Sobreira (second from right), interacting with the Deputy Minister, Naana Eyiah (second from left), at one of the mine sites