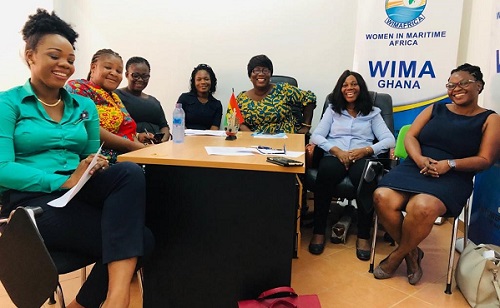 The Ghana Chapter of the Women in Maritime Africa (WIMA), has called on women professionals within the maritime space to collectively work to maximise the potential of the blue economy to the development of the country.
Vice President of Women in Maritime Africa—Ghana Chapter, Alice Torkornoo, in an engagement with the media on the occasion of World Oceans Day in Tema, said the association will continue to foster the promotion of women-led activities regarding the extensive use of marine resources to ensure that the fight against poverty is adequately supported by women professionals in the maritime space.
"Professional women in the maritime sector need to come together to ensure that collectively, we contribute effectively to the growth of the industry and rightfully take their places and places in the dominant economic sector," she indicated.
She added: "The blue economy talks about the efficient use of the marine resources to develop national economies, especially for port countries and we find women in the sector to play a critical role in attaining such objectives."
According Mrs. Torkornoo, WIMA as an association primarily seeks to ensure that women in these activities benefit fully from what they do and to enable them better contribute to the socio-economic development of the country.
WIMA was established in March 20115 in Luanda, Angola following a meeting of a group of women and spearheaded by the former chairperson of the African Union, Madam Nkosazana Clarice Dlamini-Zuma.
The main idea was to bring professional women in the maritime sector together to form local associations in their respective countries to lead advocacy towards the maximizing the potential of women within the blue economy.
WIMA currently has an MoU with the African Union towards the forging of the concept of blue economy, which is at the center of the AU's Africa Integrated Maritime Strategy.
Mrs. Torkornoo indicated: "The idea is to ensure that the use of ocean resources is maximized and because women are at the center of the exploitation and development of these resources: talk about fishing and its related activities, aquaculture etc."
Since its inception, WIMA Ghana Chapter has been undertaking a number of women-focused programmes that seeks to drum home the concept of the blue economy, groom practicing and aspiring women professionals in the industry and the culture of public speaking.
Going forward, Mrs. Torkornoo said the association will be working with other women groups in the industry to pay specific attention to the cause of coastal women, what they do and how it could support and help empower women in the country as a whole.
She noted: "As a continent-wide association, we encourage women in the maritime sector to join hands with us so we can promote the development of the blue economy in Ghana.
Women are actively contributing their quota to the development of the maritime sector."