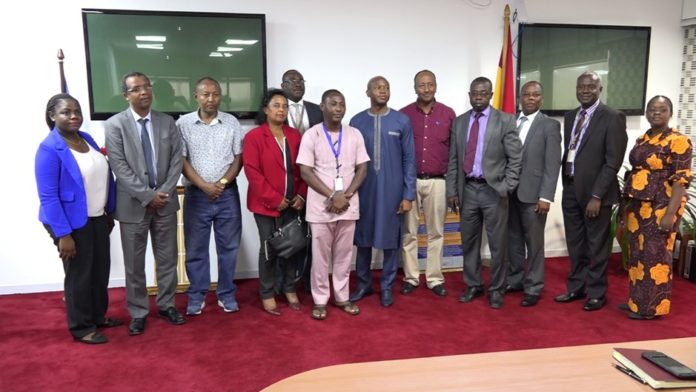 The Acting Director-General of the Ghana Ports and Harbours Authority (GPHA), Michael Luguje, has called on the shipping community to increase trade activities with sister African countries to help grow the "not so encouraging" intra-African trade figures.
"Intra African trade is just around 12 percent, which is too little. How do we open up the continent so we can do more business among ourselves? That's an area that traders can look at.  For instance, the maritime route offers the best option for movement of goods between Ghana and Ethiopia. I think we can do better bilaterally, and even encourage other member-states to join in on opening up the continent to trade," he said when hosting a delegation from the Addis Ababa Chamber of Commerce at Tema Port.
GPHA's General Manager-Business Development, Samuel Ntow-Kummi, indicated the port's readiness to push the intra- regional trade agenda with the ongoing development of essential infrastructure.
"With these essential infrastructure, we are positioned as the port for regional integration; one that can serve all potential partners and customers.
"We are building an ECOWAS port because we are looking beyond boundaries; a maritime hub that will promote trade and investments in the West African sub-region and beyond," he indicated.
The President of the chamber, Mesenbet Shenkute, said the GPHA will play a pivotal role in trade among the two countries, hence the need to explore opportunities and partnerships.
"If we are going to start import and export trade, this port will be essential to facilitate trade relations between the two countries," she said.
She added: "With strong finance and trade relations with Ghana, I'm sure we can grow together because our business-people are currently exporting beyond African countries where we do not have any kind of trade or finance relationships, and this is where we have to start".
The Chamber was at the port to explore avenues for trade and partnerships within the broader goal of revitalising trade relations between Ghana and Ethiopia, as the two countries have historically engaged in commercial partnerships.
The visit was also to court participation of the GPHA ahead of the Ethio-Ghana International Conference on Trade and Finance, a high-level trade facilitation conference to be held in Addis Ababa.
The conference will give an opportunity for African countries to evaluate areas within the trade and logistics sector, and to take advantage of and maximise its full potential.
Mesenbet Shenkute said: "With this conference, a number of thoughts will be discussed; one of which is how African countries can work together to facilitate trade, and we will also discuss finance as well. So, this is a very good opportunity for Ghana and Ethiopia".