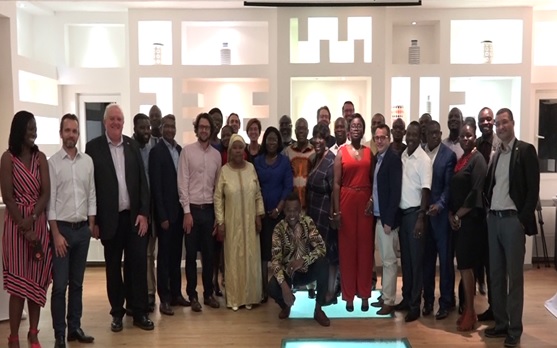 The Ship-owners and Agents Association of Ghana (SOAAG) has held its annual end of year cocktail event for stakeholders in the shipping industry at the plush La Villa Boutique Hotel in Osu, Accra.
The interactive and informal gathering brought together the various individuals, business executives and representatives of various trade advocacy groups within along the shipping value chain to network, build new leads and share ideas for the next business year.
It was attended by chief executives of vessels calling the country's ports and representatives from the Ghana Ports and Harbours Authority, Meridian Port Services, Ghana Shippers' Authority, the Shippers Council of the Sahelian countries, the Ghana Institute of Freight Forwarders, the International Chamber of Commerce, the Parliamentary Select Committee on Trade and Industry among others.
Vice President of the Ship Owners and Agents Association of Ghana, Adam Imoru Ayarna, speaking at the event, assured the Ghanaian shipping community that shipping lines will continue to create opportunities for global commerce, and encouraged frequent dialogue as a remedy to the challenges encountered in the business.
"We will continue to create opportunities for commerce globally and continue to support Ghana. Like I have always said shipping is a business of conscience and all the shipping lines gathered here have conscience for the shipping business, and we also operate within the laws of the land," he said.
GPHA, represented by the Board Chairman, Peter Mac-Manu and the Director of Port, Sandra Opoku, assured the shipping industry of maintaining the enabling environment for shipping lines and their customers to do business.
"Ghana's ports and the economy will continue to grow such that businesses and all vessels and cargoes will come for you and us to grow our various businesses," Peter Mac-Manu said.