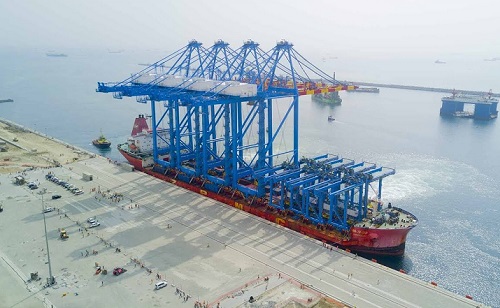 The Tema and Takoradi Senior Staff Union of the Ghana Ports and Harbour Authority (GPHA) has vowed to continue mounting pressure on government to review the concession agreement between the GPHA and Meridian Ports Services (MPS), describing it as inimical to interests of the state.
Mr. Samuel Arhine, the workers' representative on the board of GPHA, indicated that they are not against the port expansion project being done by MPS, but against the contract.
"We are happy with the port expansion project, but we are not happy with the concession agreement that GPHA signed into with MPS," he said.
Mr. Arhine revealed that given the huge tax waiver of US$800million granted to MPS, the true cost of the project will be US$700million and not the US$1.5billion announced by the company.
"MPS is investing US$1.5billion dollars into the port expansion project, and will have to enjoy an amount of US$800million tax waiver – which means the contract has reduced from US$1.5 billion to US$700million dollars. MPS and Ghana, who is paying more? We have invested more than MPS, and this is not good."
The union has promised to continue hoisting its red flags until management comes out with something worth hearing.
According to the union, GPHA will lose a chunk of revenue to MPS for 35 years, while other companies will be out of operations. Hundreds of workers are also expected to lose their jobs, and hence the need to review the concession agreement.
"We are pleading with President Nana Akufo-Addo to step in and ensure the right thing is done to the benefit of this country."
Secretary of the Tema Port Senior Staff Union, Keku Amuzuah, noted they will do whatever it takes to hold and protect GPHA for generations yet unborn.
He explained that the MPS contract should be renegotiated; if not, it will not benefit GPHA and the entire nation. Mr. Amuzuah said they have lost complete trust in the management of their leaders, and therefore President Akufo-Addo must intervene.