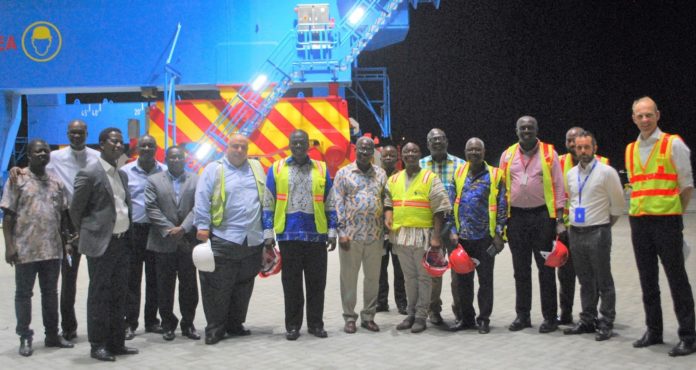 The Minister of Employment and Labour Relations, Ignatius Baffuor Awuah, led a delegation from his ministry on a working visit to the Meridian Port Services' new mega-container terminal to inspect progress of work and evaluate the significance of job creation at Tema Port.
The group also included the Chief Director of the Ministry of Transport, Mr. Twumasi-Ankrah Selby, and Mr. Peter Mac Manu, the Board Chairman of Ghana Ports & Harbours Authority, among members of the Senior Management Team of GPHA and the ministries.
The Management of MPS proceeded with a presentation on the company's background and journey of success in rising to be the best in Container Terminal in the West and Central Africa region – highlighting the dedicated investment in technology and the immense positive impact it is having on livelihoods of workers and the community at large.
The MPS Operations Manager, Emmanuel Ohene Addo said: "We are a trendsetter in deploying world-class technology. The decision to invest in high-end technology is aimed at enhancing skills of the workforce and raising the service levels provided to port users".
He further explained that although there are fully automated cranes, MPS went for cranes that required operators to ensure the continuity of jobs. Also, the cranes were selected with ergonomical requirements in mind to ensure that the operators are working in comfort.
The delegation also went through the scope of high-end technology and equipment that will be fully integrated at the new port facility to eliminate congestion and maximise efficiency levels without compromising on security at the port and in Ghana. These include: Biometric Access Control; License Plate Recognition (LPR); Radio Frequency Identification (RFID); Optical Character Recognition (OCR); and Scanners for recognising containers' numbers and content.
These cutting-edge systems and PAPERLESS processes are part of the drive toward making Tema Port the most efficient regional port and upgrading it to meet international best practices. This is in line with the directive of by Dr. Mahamudu Bawumia to ensure that efficiency goes with accountability for every cargo that goes through the port, elevate national border security and safeguard the state's revenue at the port.

The Human Resource Manager, Mr. Ibrahim Abu, added that MPS has its employees at heart. "Every business decision that we make is to ensure that the employees' welfare is taken into consideration. What we have today is sophisticated technology that allows operational supervisors to operate from the comfort of an office with giant screens, monitoring in- real time the movement of cranes, trucks and containers. With these new processes, enhanced jobs emerged such as Planners and Dispatchers. Moreover, this significant change made some jobs gender-friendly. The number of senior and junior female officers within the Terminal Planning office is on the rise, and in positions that were impossible for a female in the old-fashioned port operations."
Evidently, most of the workers who joined MPS come from the start-up or other organisations with little or no knowledge of how to operate such advanced Terminal Operating Systems. The management of MPS emphasised that as there is no other company in Ghana or West Africa operating such advanced Terminal Operating Systems and Sophisticated Equipment, MPS has invested heavily into talent training. What MPS has done over the years is provide training and retraining for its employees.
Socio-Economic Impact Assessments of MPS Investment
The MPS Head of Legal and Licencing, Mr. Frank Ebo Brown, enumerated the significant effect of the Port Expansion Project by presenting the report submitted to the IFC, subsidiary company of the World Bank, Quantifying Business Impacts on Society from MPS Terminal-3 investment resulting in growth in trade and increasing turnover of Ghana import and export companies, and in turn generate Gross Value Added and new jobs.
The new Tema Port is expected to increase Ghana's connectivity and lower its transport and logistics costs as well as the prices of imported goods.
This is expected to increase import, export and domestic production (provided cheaper import do not crowd out domestic production), and in turn increase jobs and GDP.
The CEO of MPS added that the new Tema Port has potential for increasing Ghana's export by 14% to 17%, which is associated with 1.7% to 2.2% increased GDP (US$47.3billion in 2017) and 3.3% to 4.0% more jobs (13.6 million employed in 2017).

If the new Tema Port boosts the competitiveness of Ghana's exports, Ghana's agricultural and agro-based industries' exports will increase and create most jobs.
Of the estimated 452,000 to 549,000 jobs potentially being created from the new Tema Port, around 77% are expected to be created in Ghana's agricultural sector through increased exports. Ghana's agricultural sector is paramount for the country's employment and poverty reduction.
Since the launch of this Tema Port Expansion Project, many jobs have been created in varied capacities: so far, the project's construction phase has generated employment for about 5,000 Ghanaian Workers with various contractors on the project.
On the core business front, MPS has always planned and sponsored job creation and not job-losses. Terminal 3 is a relocation of existing business from one facility to another. Currently, facts show that almost 2,000 new jobs will be created directly in the next 2 years from the start of operations at the new Terminal.
Other than the existing 950 direct & indirect job positions at MPS Terminal 2, the new jobs in Terminal 3 between now and Go-Live on 28th June 2019 are as follows:
71 to   75       MPS direct employment of crane operators and operations
492 to 500      MPS outsourced contractors/services; (Labourers, skilled/semi-skilled dockers, drivers, operators, dockers, supervisors, managers etc.)
100 to 150      GPHA security, marine, mooring etc.
100 to 200     New Positions for the Authorities Personnel (working 24/7)
(GRS, Customs, FDA, GSA, National Security, BNI, Immigration etc.)
Additional New Jobs for the Third New Berth during the first quarter 2020:
83 to   75       MPS direct employment
400 to 500      Outsourced inspection platform workers as volume grows
Up to 500      GPHA new opportunities working at Terminal 2
Besides the improved trade facilitation, the impact of GRA-Customs introducing 24/7 operation is bound to generate huge number of new jobs within the port business community (clearing agents, transport companies, agencies, logistics providers etc.)
Based on actual examples of business growth around major hub ports with good connectivity, factories may emerge to provide 10s or even 100s of thousands of jobs in the coming years, working within/for the logistics providers, free zone companies, trade and industries.
Adding Value Along the Economic Chain
The CEO of MPS zeroed-in on port connectivity and making Tema Port the sub-region's hub.  "This presents significant opportunities for trade, industry, logistics and value-added services which will be created for free zone/industrial development projects, and will further enhance the 1D1F initiatives," said Mr. Samara.
In effect, what MPS is building here is an asset and an economical engine for Ghana. It is not just for this generation but for the next hundred years or more to come.
In response, Mr. Awuah expressed his satisfaction with project – "…having been here to experience first-hand what is going on at the site, and the evidence you have presented as related to the issues that have being making headlines. I must commend you, especially in the area of the transfer of skills to local workers to manage the technology. I believe that there is some way to go in addressing the concerns which have been raised, and I would encourage that better dialogue is conducted so that the erroneous impression created in the media is corrected".