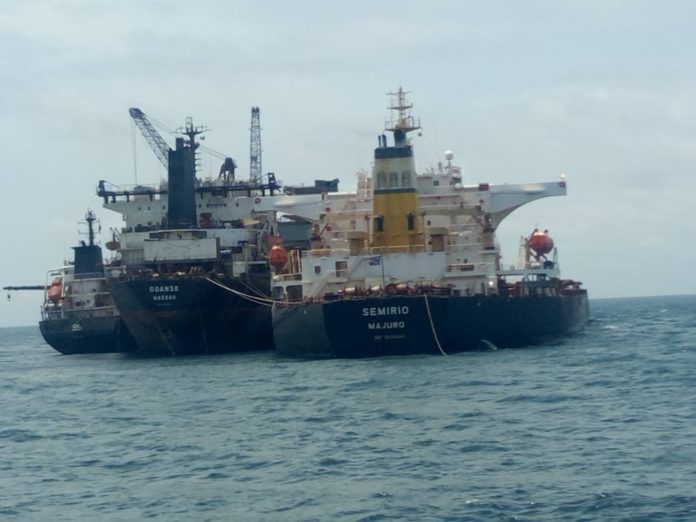 The Takoradi Port is handling the largest vessel to ever dock at the facility in its 92-year history. The vessel, MV Semirio, is scheduled to load 175,000 tonnes of manganese for export to China.
Located about four nautical miles away from the port (anchorage), MV Semirio is 290 metres long and it is largest vessel that has ever called at the port, and the largest volume that is being handled in a single operation, according to Peter Amoo Bediako, Acting Marketing and Public Affairs Manager of the port.
"It is a testament to the fact it is not only the port that is safe, but the port anchorage is also safe," he added.
Mr. Bediako was speaking in an interview with the B&FT on the update of port operations, which coincided with a media visit to the port's anchorage.
"The anchorage has capacity to receive bigger vessels. The Port of Takoradi is the safest in the sub-region, and this has been made possible due to closer collaboration between the port security, the Marine Police, Navy, National Security and BNI among others," he added.
"In the first three months of 2019 we have handled three of such vessels; we have handled close to 700,000 metric tonnes of cargo, which shows that Takoradi Port is on course and this year will be very good for us" he said
He said last year manganese export rose from 2 million metric tonnes in 2017 to 4.2 million metric tonnes in 2018.
"The 4.2 million tonnes make almost 48% of our total traffic, and with regard to exports it was 76%." This is an indication that this year our exports and total traffic are also going to go up, and will impact positively on the financial fortunes of GPHA Takoradi and the nation as a whole," he added.
On the new bulk jetty, Mr. Bediako explained that it is 300 metres in length and is dredged to 14 metres – compared to the old jetty which was 120m and had a depth 8.4 metres.
"As you can see, it is progressing steadily; and hopefully by June 2019 it will commence operation."
According to him, this is part of the port expansion programme and is to enable the port handle bigger vessels so that more petroleum products can be brought into the country.
"The old oil jetty could just accommodate a vessel of 120 metres and had a depth of 8.4 metres, but the new one has a length of 300 metres and depth of 14 metres," he stressed.
The facility, he said, when completed will be used to handle petroleum products such as petrol, diesel, marine gas oil and Liquefied Petroleum Gas (LPG).
"We are currently at the new bulk jetty where the last phase of an 800m board jetty – that is 200m out of the 800m – is currently being constructed. As we can see, the key furniture has been procured; that is, the fenders and bollards," he said.
He mentioned that work is steadily progressing and, all things being equal according to contractors, by the end of April 2019 the remaining 200-metre key wall would have been completed – which is the full complement of the 800-metre key wall.
He said with completion of the key wall, the port can accommodate the bigger vessel and larger volumes: "If you compare, inside the port we could only handle a maximum of 45,000 tonnes even with double handling; and with this one, the vessel comes to berth straight.
"We will not need the assistance of barges to support it; when fully completed, the new bulk jetty will have a conveyer system that will help with loading bulk commodities at the rate of about 3,000 tonnes per hour, and this one will help improve our turnaround time," he added.
"Currently, we are doing about 800 metric tonnes per hour; so you can see the vast difference from 800 to 3,000 metric tonnes," he pointed out.