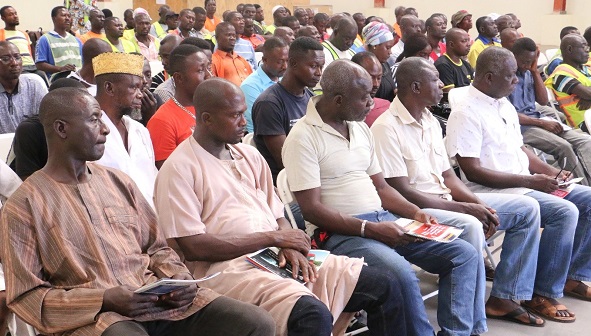 The Ghana Shippers' Authourity (GSA) has organised a sensitisation workshop for haulage truck owners and drivers in the Western Region, to enhance their skills and solicit their input on matters that affect trade and transit of cargoes.
Also, the workshop is for GSA to collaborate with stakeholders in the trade and transport ministry to find solutions for challenges – and to bring world-best practices to the shipping industry in the country in order to make it very efficient and competitive.
Topics discussed were: Role of Customs trade; new transit trade procedures – vehicle registration, bonding of owners and drivers involved in transit trade; road safety issues along the corridor; vehicle and driver requirements and common offences along the corridor; and highlights of axle-load regulations among others.
Ms. Benonita Bismarck, Chief Executive Officer of the Ghana Shippers' Authourity, in an address read for her explained that in compliance with international agreements, protocols, conventions and other accords, Ghana has offered its territory as a corridor for landlocked neighbours to transit their goods to and from those countries.
"This gesture has no doubt come with tangible economic benefits to the country and its people; consequently, substantial efforts have been made to facilitate transit trade, with a view to ensuring that Ghana's corridor remains one of the most attractive in the sub-region," he said.
She pointed out that GSA has for some time now been taking fact-finding missions along the major transit corridors in the country – and these exercises have unearthed very serious infractions of our Road Traffic Regulations, police harassment, and malpractices at the Axle Load Stations among others.
Ms. Bismarck said Ghana's quest to become the preferred transit country, and consequently become the gateway to the West African sub-region, requires that all must be committed to contributing his quota to finding solutions for the plethora of challenges affecting growth of the Transit Trade in Ghana.
Mr. Charles Darling Sey, Western Region Branch Manager of the Ghana Standards Authority, said the workshop is the first of its kind leading to implementation of an institutional mandate for protecting and promoting the interests of the shippers across the country.
He said GSA has as its mandate promoting and protecting the interests of shippers (importers and exporters) and to bring solutions for their challenges.
Nana Akua Ansaah, Western Region Manager of the Ghana Road Safety Commission, pointed out that 60% of accidents which occur involve people in their productive age, and 70% of them are also men who are head of the family.
"Accidents usually occurs between 6-8pm; expired car tyres, overtaking, weather conditions, poor visibility, and excessive alcohol intake are some main causes of road accidents," she mentioned.
Also, she noted that some haulage drivers park haphazardly – especially when the vehicle is faulty: "Put signage or a triangle to reflect that the vehicle has broken down; do not use branches of trees as warnings when the vehicle develops a fault.
"Learn more about your car; concentrate, be observant, drive defensively; and be tolerant of each other on the road to ensure safety of all," she said.
Emmanuel Yaw Tettey, Customs Division of the Ghana Revenue Authourity, encouraged haulage drivers to endorse all their document before setting off on their journeys.
"No Customs officer will bother you if you have proper documentation; report to the police and nearest Customs office if you have challenges on your way. Comply with all the regulations to have a smooth journey to your destination."