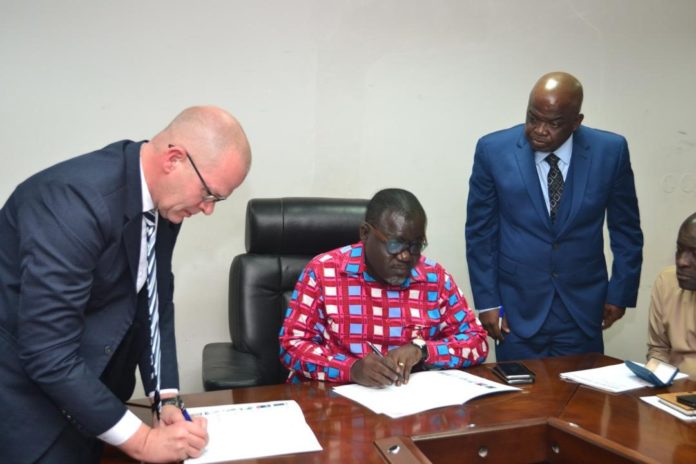 The Ghana Maritime Authority (GMA) has signed a three-year strategic sector cooperation agreement with its Danish counterpart, the Danish Maritime Authority, marking the start of the second phase of an e-navigation programme that seeks to enhance surveillance of the country's territorial waters.
The second phase of the e-navigation will also support implementation of international maritime regulations and train tug-boat captains with advanced simulators in Denmark.
In 2017, Ghana was the first in Africa and fifth in the world to pilot an e-navigation platform as a result of the initial partnership.
"We have come a long way in enhancing our compliance to international maritime regulations.  The e-navigation platform is revolutionary in making navigation of Ghanaian waters safer by broadcasting maritime safety information digitally and in real-time," newly-appointed Director-General of the GMA, Thomas Kofi Alonsi, said at the brief signing event in Accra.
He added: "The GMA looks forward to working with our counterparts in the Danish Maritime Authority to ensure a successful outcome for Phase II of our maritime cooperation".
The platform will be further advanced to update the Volta Lake map with submerged tree-stumps, to make vast areas of the lake more accessible.
As part of the collaboration, four tug-boat captains from the GPHA will improve their qualifications using ship-simulators which are able to resemble the new Tema Port terminal and the much bigger ships that will be calling at the port.
Director-General of the Danish Maritime Authority, Andreas Nordseth, commenting on the cooperation said: "We are pleased to have gained so much from the maritime cooperation between Denmark and Ghana. With the continuation, we will work even more closely together".
The Danish Ambassador to Ghana, Tove Degnbol added: "Ghana is a long-standing partner to Denmark and an important maritime hub for West Africa. Continuing this maritime collaboration will provide capacity building support to the new Tema Port terminal, and further strengthen the ties our two seafaring nations".
Ghana is one of the foremost countries in the region to comply with international regulations, and the collaboration will further stamp the country's position in that regard.