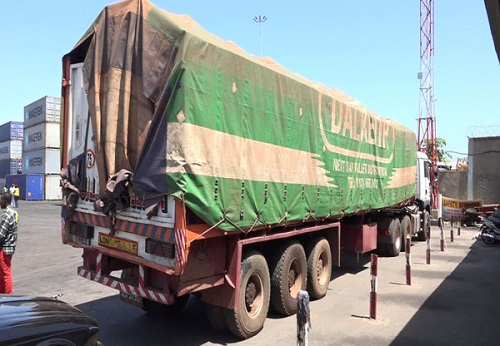 A transit truck driver moving cargo from the Tema Port through the Paga corridor has to pay between GHC 400 and GHC 1,000 per trip to police and officers of the MTTD before reaching his destination, according to a fact finding investigation on the country's trade corridors conducted by the Ghana Shippers' Authority (GSA).
Knowing the risk of their action, such officers usually remove their name tag or cover them with reflectors when extorting monies ranging from GHC1 to GHC 500 from the truck drivers, according to the report.
Some of the officers do seize documents and papers from drivers who refuse to pay the bribe because they hold genuine documents covering their transit cargo, just to frustrate and delay their trip.
They [uniformed officials] also threaten to withdraw their support to drivers who do not play to their tune should they (driver) be attacked by armed robbers or face any difficulty on the road.
Although the paperless port directive came with the reduction in the number of checkpoints and Customs barriers along the country's trade routes, there are still more checkpoints and police barriers from the Accra to Paga.
The investigation revealed that there are currently about 37 physical structures and 38 mounted barricades as checkpoints for the movement of transit cargo on that stretch.
Four Customs checkpoints were counted at Accra, Kumasi, Techiman and Tamale; three Forestry Commission checkpoints at Kumasi, Techiman and Tamale; as well as six axle load stations along the same stretch.
The GSA is therefore demanding harsh and severe punitive sanctions against uniformed personnel who harass and extort monies from transit truck drivers to serve as a deterrent to others in the interest of growing the country's transit business.
"Uniformed officers on the corridor are mostly responsible for the delays in the movement of transit goods along the country's transit corridors.
Frustrations on the corridor may compel landlocked countries that move their cargo through the country's seaports to turn to the neighbouring ports of Togo, Cote d'Ivoire, Benin and Nigeria," the authority indicated.
The GSA has also recommended to the police hierarchy to enforce a directive that will bind its personnel along transit corridors to wear their uniform, name tags and badges at all times.
The fact finding exercise was to identify, monitor and analyze challenges faced by haulage services providers, especially transit truck drivers and other malfeasance acts of security agencies along the transit corridors that make the business of transit trade difficult and costly.
It was instigated by complaints that were recorded on the GSA's e-platform structure, which is an electronic platform  for reporting , monitoring and resolution of non-tariff barriers to trade with focus on key trade facilitators including the Ghana Police Service, GRA—Customs, Ghana Highways Authority, ECOWAS Brown Card Secretariat and GCNet.