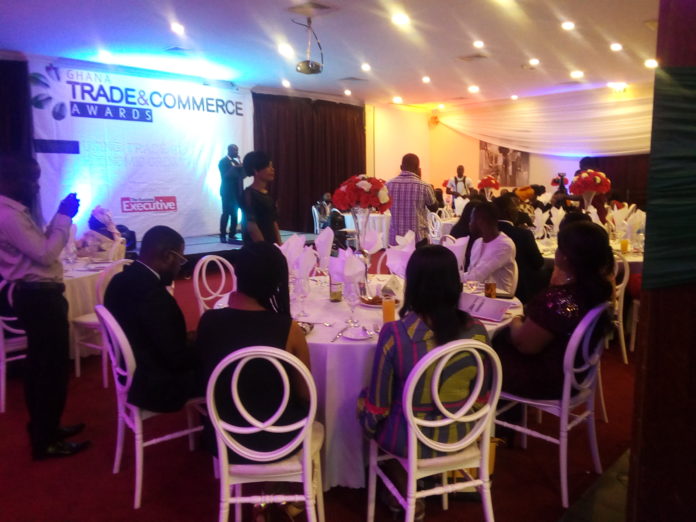 The Business Executive, a Pan-West African media, communications and events management company have organized the maiden edition of the Ghana Trade and Commerce awards ceremony which cut across 30 sectors of trade and commerce operations in the country.
The award ceremony was aimed at identifying and publicly recognizing various aspects of outstanding performances and conduct by enterprises domiciled in Ghana with respect to trade and commerce.
In all, 30 companies were awarded including the Holy Trinity Spa which was adjudged the health tourism firm of the year, Accra City Hotel, emerged the best hospitality firm of the year and Jobberman swept the best human resource firm of the year award.
Speaking on the theme: "Using Trade to Promote Economic", guest speaker for the event, Minster for Gender, Children and Social Protection, Cynthia Morrison, appealed to the business community in Ghana to lend helping hands to street children across the country.
She narrated how she single-handedly rescued some of these street children in her community to safety and provided them with basic needs including education.
She said businesses must consider devoting part of their Corporate Social Responsibility (CSR) towards empowering street kids and getting them off the streets.
Madam Cynthia Morrison added that: "Ghana has a large population of street kids and government has come up with several interventions in the past at the state level to get them off the streets. The business community and the larger Ghanaian society should consider it a risk ignoring kids on the streets because they could become wayward and pose as a threat to the security of this nation. These kids on the streets could probably be friends to children of businessmen and women, and not supporting them to acquire proper training and education could have an adverse impact."
Apart from the 30 sectors awarded, six lifetime achievement awards were presented to some individuals who have contributed immensely to the development of trade in Ghana. Amongst them was the Group Chairman and CEO of the Angel Group of companies, Dr Kwaku Oteng. He was awarded for his commitment to job creation, Ghanaian entrepreneurship and exemplary contribution to the evolution of trade in Ghana.
In an interview with the B&FT, an awardee, Eric Kpesese of Elseana Autofix, said he believes that his firm was awarded because he has a unique business model in the area of autofix.
He said his firm uses original modern equipment as well as have international expertise who are dedicated to provide excellent services.
Mr. Kpesese advised that: "Funding should not be a reason that prevents you from living your dream. Explore other avenues for sources of income in order to set up and expand your business. It is ok to depend on government for support but don't wait on government support in order to move to the next level. Government always has a lot on their plate which could delay you. So, start your dreams no matter how small it may look and no effort will go unrewarded".
Amidst joy, Mr. Kpesese said the award makes him feel challenged to put in more effort to work smarter and harder.