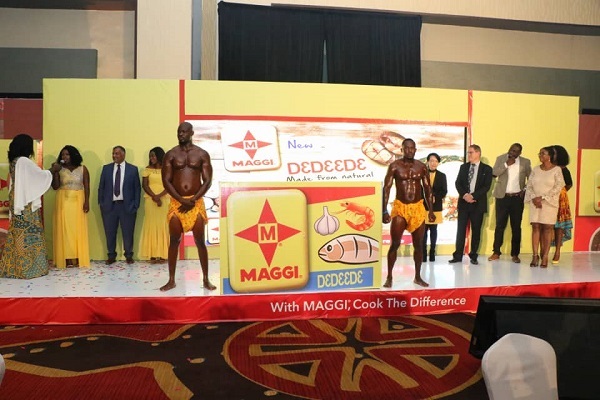 Nestlé Ghana, has added to its bouillon brand MAGGI, the "MAGGI® Dedeede" at a grand ceremony held in Accra last weekend.
Made of pure natural ingredients; shrimp, garlic, fish and fortified with micro nutrients, the product fulfills the brands commitment to support governments in its efforts to provide safe and quality nutrition for individuals and families.
The launch was also organised to raise awareness about healthy lifestyles, cooking and diets as well as educate consumers on Nestle's dedication on using familiar and common ingredients.
According to the Business Executive Officer, Culinary in Nestlé Central and West Africa, Dominique Allier, MAGGI® Dedeede has been carefully crafted to heighten the taste of Ghana's favourite dishes while providing natural ingredients that promotes good health.
He said: "I am fully convinced that MAGGI® Dedeede contributes to fulfilling Nestlé's purpose, of "enhancing quality of life and contributing to a healthier future". said he believes that the success of Maggi is as a result of Providing affordable and tasty nutrition adapted to local tastes and Improving the nutritional profile of the products, including reducing salt and fortifying more than 80% of our MAGGI portfolio with iron and iodine.
He added that Nestle Ghana seeks to increase local sourcing and build the local economy.
"We also make every effort to source our ingredients locally so that MAGGI® can truly reflect the taste that you love.  Currently we source our salt, onions, cassava and soya here in Africa. "
He applauded the dedication of the buyers of the Maggi bullion over the years saying: "We support of a large proportion of them with marketing and sales training, free vaccination and literacy programmes. Hence, I personally want to thank them for their dedication and hard work to bring goodness into the homes of Ghanaian families."
On her part, Managing Director of Nestlé Ghana, Philomena Tan noted that: "As a Nutrition Health and Wellness Company, we have a purpose to enhance the quality of life and contribute to a healthier future of consumers. We believe that we can achieve this purpose through the provision of product choices that have been developed through innovation and scientific findings. We are committed to using ingredients rich in vitamins needed for the wellbeing of consumers."
She said Nestle is extremely proud to introduce a new addition to the MAGGI®  family pledging their commitment to use more familiar and common ingredients in their production.
"Tonight's ceremony is evidence of this commitment with the introduction of "MAGGI® Dedeede fortified with iodine and made of locally familiar and natural ingredients", she said.