Foreign businesses that significantly partner locals or local businesses scale-up faster and see sustained growth, Yofi Grant, CEO of the Ghana Investment Promotion Centre (GIPC), has said.
Speaking at a breakfast meeting for a 16-member delegation from the National Black MBA Association (NBMBAA) – an organisation that creates educational, wealth-building, and growth opportunities for those historically underrepresented – Mr. Grant said partnerships with players in the local economy is critical in determining success.
"Foreign investors who have had indigenous partners have tended to get to market much quicker than those who don't, and have been able to negotiate all the nuances and little bits and pieces of the market much quicker than those who don't.
"Foreign business leaders must find good partners because they do not live here, and so to establish businesses here they must have people here who will look after their investments. So, partnerships are one of the things we are looking for," he said.
Mr. Grant urged the African-American business leaders to look to Ghana as the best business destination in Africa. "Ghana is a great investment platform, and government has introduced a series of programmes such as One District, One Factory (1D1F), One Village, One Dam with others in tourism, education, ICT and manufacturing.
"We can't build a solid economy by exporting our raw materials. We should move away from exporting our cocoa beans. The most we make is US$15billion. Let's get into the processing so that we take a big chunk of that US$120billion in the chocolate industry. We want to move away from the Guggisberg economy," he said.
He added that the key macroeconomic indicators are trending in the right direction, hence the need for Ghanaians living in other parts of the world to grasp the opportunity and contribute to nation-building.
He mentioned further that government's ambition to build a buoyant economy is hinged on agriculture, thereby advocating that the country should move away from exporting raw materials which when processed breed more value and profit.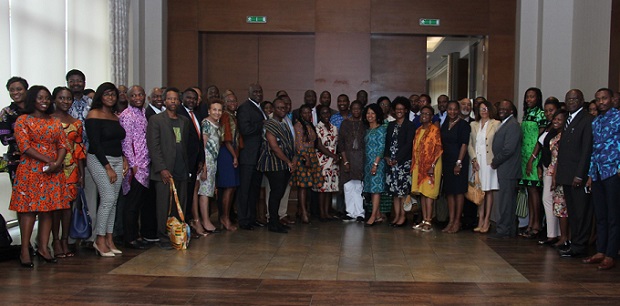 Matilda Arhin, President of Ghana International Chamber of Commerce, noted that the African-American community is one of the largest spenders in the United States alone, with annual expenditure standing at US$1.3trillion.
"In business, Blacks spend about US$1.3trillion a year; in a decade that is about US$13trillion, and so focusing on the African American community from talent, business, finance will definitely allow us to move forward as a country.
"The African American community spends US$400million in tourism, and we as a country want to improve our tourism: so, how do we engage these people so that they come to spend their holidays here instead of other places? How do we get them to spend money in real estate? This 'Year of Return' is very important and emotional to them because, finally, a country like Ghana is inviting them to come home," she said.
She therefore called for more partnerships between the African-American community and Ghanaian business that will create a win-win situation for everyone.
"When you look at what we as a country wants to do, we have to find strategic partners everywhere we go to; and when you look at the USA for example, the most powerful demographic brand is Black America from music to sports – and the National Black MBA Association has the most powerful Black brains in the USA," she added.
The Chief Executive Officer of the Ghana Tourism Authority, Mr. Akwasi Agyeman, told the African-American delegation to take advantage of the enormous opportunities which abound in Ghana, including its vibrant business climate, and consider investing, especially, in the hospitality sector.
The meeting was hosted by the American Chamber of Commerce (AMCHAM), Ghana International Chamber of Commerce (GHICC), the US Commercial Service and YOKS Rent a Car, and is meant to introduce African-American business leaders to local counterparts, and also to partner the Ministry of Tourism, Arts and Culture in its 'Year of Return' programme.