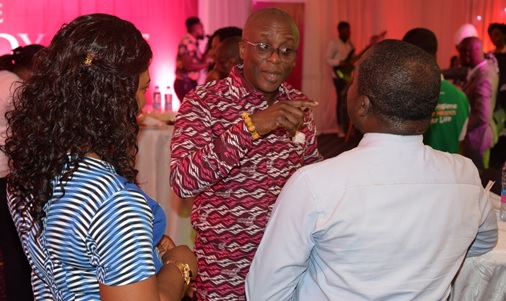 The Group CEO of Enterprise Group, Keli Gadzekpo has assured clients of    Enterprise Group of a much better service delivery particularly leveraging the available information technology.
Mr Gadzekpo gave the assurance when top management and the board of directors of the Group met with clients of all of the Group's subsidiaries  at the plush Golden Tulip Kumasi City in Kumasi recently.
According to him, as providers of insurance and pension needs they have the utmost responsibility to ensure that the vulnerable always gets the support they require once one signs up to any of their chain of insurance and pension products.
"We all know of the popular saying "A friend in need is a friend indeed", but these days it feels   as if "a friend in need is a friend to avoid" but that's not the Enterprise Way! Enterprise is your friend when you are in need and we count it a privilege and our mission to be there for you" Mr Gadzekpo stressed.
The Group CEO mentioned the many innovations they have introduced within a period of one year with all of them designed to improve service quality to customers.
Notable among these include the introduction of the USSD code by Enterprise Trustees which will enable clients to pay their pensions through their mobile phones, the launch of Enterprise Life new funeral policy and the Enterprise Advantage App which offers online access to products across all subsidiaries.
The Group CEO has further assured clients of the entire group that management is leaving no stone unturned to leverage all available resources to offer excellent service to their clients.
The primary objective of the meeting was to interact with clients and pick up a feedback on how  the company is faring regarding their products and service  delivery.
"As you can see, today we have taken it up a bit higher because we also have many of our directors with us; so please as we interact with you let us know how we are doing and how we can serve you better, we value your feedback," he added.
Mr Gadzekpo finally reiterated that another very important reason for the meeting was to give management the opportunity to let clients know how much they are appreciated.
Some clients in their remarks gave a pat at the back of management for the superior service they have offered them over the years and appreciate the service quality and encouraged management to spare no effort to maintain or improve upon the quality of their service.
Enterprise Group was created to deliver sustained growth by taking advantage of the profitable business opportunities in sectors of the economy, other than insurance, such as Pensions, Real Estate etc. The group is managed by a team of proven and accomplished professionals who bring their experience and expertise to bear in steering the affairs of the group, ensuring exceptional service to their clients, job enrichment to staff of the company and increased returns to shareholders and all stakeholders.