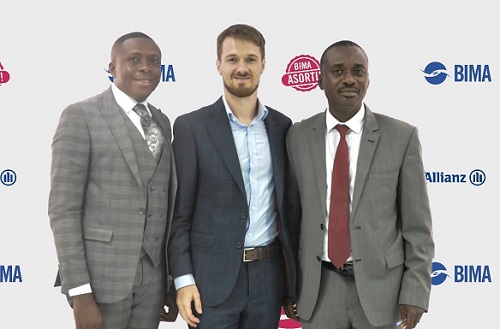 BIMA, the country's leading provider in mobile-delivered health and insurance services, unveilled its new B-Health and B-Life insurance policies during an official launch held at the BIMA Head office in Accra.
BIMA has pioneered the use of mobile phones in delivering insurance products to the underserved population in Ghana since 2010. BIMA continues to innovate in the insurance space, using technology to ensure easy and affordable access to insurance and health services for every Ghanaian.
Damien Gueroult, Country Manager of BIMA Ghana, commented during the ceremony: "We have been serving the informal sector for the past 10years. During this time, we realised that our customers' needs go far beyond providing support with hospitalisation and funeral costs. Our customers want easy access to doctors and assistance with casual health expenses from their insurance company. They also want cash-backs when they do not make claims. With this insight, we were able to provide our customers with what they want through our new B-Health and B-Life policies. This makes us the company of choice for all Ghanaians when it comes to protecting their family against unforeseen circumstances".
With the B-Health policy, customers and their families have unlimited access to qualified medical practitioners over the phone, cash support for purchasing medicine and a cash payout of up to GH¢1,500 when admitted to hospital. The Chief Medical Officer at BIMA, Dr. Sunu, along with his team of qualified medical practitioners are excited and passionate at the prospect of this affordable and time-saving service. It allows Ghanaians, especially in the informal sector, to access quality medical help when they need it without losing out on their daily earnings.
Precious time spent commuting long distances and waiting for hours at clinics before accessing health care is over. Beyond a typical hospital admission cover, B-Health offers a one-stop health solution, whereby customers can opt for health coaching programmes, receive e-prescriptions via SMS, and enjoy discounts when referred to BIMA's partnered network of over sixty laboratories and hospitals.
The B-Life policy provides financial relief against funeral expenses and the loss of income due to permanent disabilities. Customers can receive a lump-sum payment of up to GH10,000 if any of the insured incidents occur. In addition, customers who thankfully do not suffer any loss or injury are rewarded with a yearly cash-back to encourage them to continue contributing to their insurance and stay covered.
These policies are underwritten by one the world's leading insurers, Allianz Life Ghana, and premiums are priced at GH¢6 or GH¢10 per month. Payments can be made conveniently via any AirtelTigo Money and MTN Mobile Money wallet. Michael Acolatse, BIMA's Head of Mobile Money, commented that: "The recent surge in mobile money penetration and usage is a true enabler for BIMA. Not only is it a convenient mode of payment for our customers, but it also enables us to refund customers, pay claims and send cash support in a quick, secure and paperless manner".
In attendance at the launch was the CEO of Allianz Insurance, Gideon Ataraire. He lauded the company's partnership with BIMA saying: "We are proud to partner with BIMA to bring these two innovative products to the market. For a long time, telemedicine was only accessible to wealthy customers in developed countries. Through products like B-Health, Ghanaians will be able to truly leapfrog their access to healthcare for as little as GH¢6".
Mr. Kofi Andoh, Deputy-Commissioner of the National Insurance Commission, during the event commented that mobile-delivered insurance has played a key role in raising insurance coverage in the country. He said is glad to see companies like BIMA thinking out-of-the box and continuing to bring innovations to the insurance sector which help strengthen financial inclusion in Ghana.