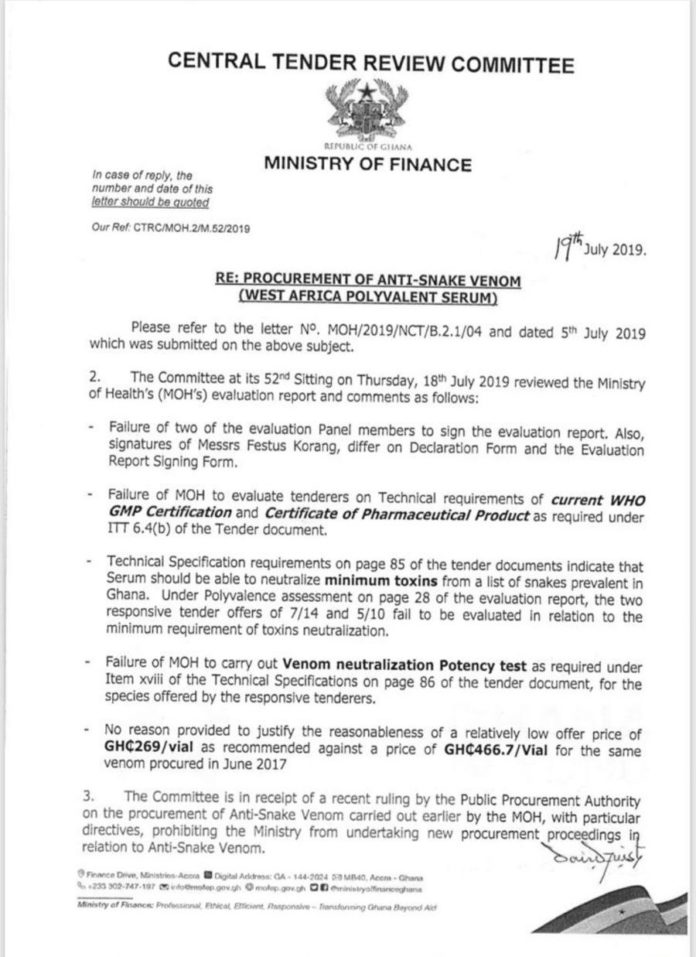 The Ministry of Health (MoH) has allegedly attempted to purchase a controversial anti-snake venom serum despite a ruling and order from the Public Procurement Authority (PPA) not to do so.
The infractions relate to an Anti-Snake Tender of 20,000 units in July this year, which the PPA had prohibited procuring until the first anti-snake tender from 2018 is finalised.
Despite the warning, the MoH allegedly tried to purchase the serums, which among other things cover only 5 of the 15 listed snake species – while another tenderer covered 7 species out of the 15 listed snake species.
A source close to the matter revealed that the evaluation team, per standard practice, requested inputs from the Food and Drugs Authority (FDA) – the body mandated by law to certify all medical supplies – in relation to the registration status of the tenderers and their products.
Although the sector minister wrote officially to the FDA for its input, it is understood that he kept the FDA response under close grips and did not forward it to the evaluation team for action to be taken.
The Public Procurement Act requires all tenders to be published on the PPA website, which was not case in this matter.
Per the source, the tender was quickly rushed and not published on the PPA website, nor was PPA informed about its process. The only form of publication was a Gazette in the dailies.
To ensure that the purchase goes through at all costs, the MoH is reported to have allegedly faked the signatures of members of the evaluation panel.
"The Central Tender Review Committee (CTRC) noted the missing signature, as well as that the signature of one person that looked different. We know that the person refused to sign and the MoH faked his signature on the final report," the source narrated.
Additionally, the MoH never replied to the CTRC or informed the tenderers of the outcome of this tender.
As of now, the source said, "Nobody knows the status of this particular tender, since the MoH has not communicated to any tenderer.
"MoH is obvious not interested in supplying Ghanaians with the right quality of this emergency product, since it has other interests at heart than the health of our citizens; but at the right time a comprehensive docket with hard-core evidence will be made available to the SPO and other relevant authorities to take actions against the known culprits at the MoH" the source said.