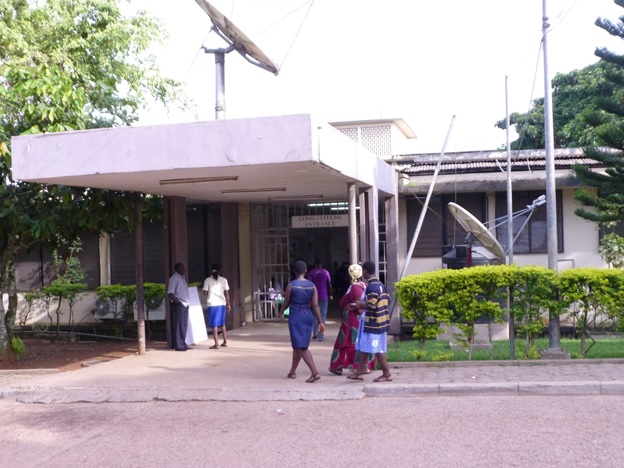 The pangs of distress, discomfort, fear and anxiety that precedes the delivery period of an expectant mother is indescribable. In addition to this emotional fight, the mere thought of having to undergo a Cesarean section (CS)  which comes with its own health implications, is a journey every other dreads; let alone having to undergo two major extra surgeries, due to the sheer negligence of a health facility and an inexperienced surgeon.
This ordeal is what 'Mansa' was left to go through at the hands of an inexperienced 'housemanship' surgeon and officials at the Tetteh Quarshie Memorial Hospital in the Eastern Region.
Mansa (real name withheld), narrated her ordeal to the B&FT. According to her, she was booked on appointment with two other pregnant women, but a surgery that took her colleagues some few minutes to go through, took more than an hour.
"Two days after the surgery, I started experiencing some severe pain in my tummy, I couldn't eat or drink as my two other colleagues managed to. And anytime I lodged a complaint, nurses at the facility acted as if I was becoming too worrisome. I was finally discharged after the 3rd day, after much pain and sleepless nights until my family referred me to a doctor at the Koforidua General Hospital where it was discovered that my intestines was slashed off during the CS".
Mansa, was subsequently booked for another surgery to get her slashed intestines fixed.
Another woman, a native of Brekuso, also underwent CS at the same facility but days after she was discharged from the hospital, her abdomen opened up and had to be rushed to the nearest hospital.
Akua Serwah (real name withheld), a private midwife and a resident of Aburi also had a throat surgery performed on her at the same facility and has not been able to speak 10 years after the surgery.
Not only are the health of patients who access the facility are put at risk, but a recent visit to the surgical ward which houses about 50 patients, revealed that both the male and female patients, share a single bath and toilet, a practice which is against basic health and ethical practices.
Some patients who spoke to the B&FT revealed that the hospital, named in honour of the man who brought cocoa to Ghana, Tetteh Quarshie, lacks basic facilities to the extent that the opposite-sex sometimes bump into each other, while competing for the only available washroom.
According to one patient who wants to remain anonymous, she has encountered several embarrassing situations, while trying to attend to nature's call at the facility.
She recounted: "I was using the bathroom this morning when a man just walked in to also use the bathroom which is so wrong!"
According to some of the workers of the hospital, the problem has persisted for quite a long time but nothing seems to be done about it.
All attempts by the B&FT to speak to management over these and other related issues have proved futile.