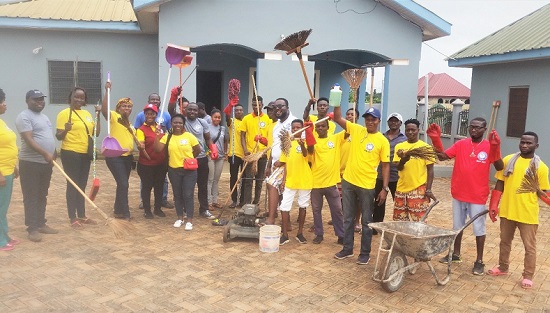 The Health Services Workers Union (HSWU) of the Trade Union Congress (TUC) has expressed concern over failure of the Ministry of Health (MoH) and its allied agencies to implement a 'Collective Agreement' signed since 2016.
They noted that the Ministry of Health (MoH) should endeavour to create a congenial working environment to promote collectivism in the pursuit of quality health care delivery, by adhering to the agreement signed some three years ago.
The Ashanti Regional Industrial Relations Officer of the Health Services Workers Union, Mr. Stephen Mensah, said among other challenges non-implementation of the 'Collective Agreement' has led to freezing market premium to 2012 basic salaries, and non-implementation of Laboratory Policies.
He also mentioned unfair placement of some members on the Single Spine Salary Structure, and the wrongful computation of SSNIT Pensions, annual salary, and early retirement reduction factor.
Mr. Mensah further appealed to the Ministry of Employment and Labour Relations to undertake a comparative study of PNDC Law 247 and act 766 to ascertain which of the laws will be more beneficial to workers when the second tier of the new pension scheme takes off next year, 2020.
At the moment, he said members of Union who have retired and those about to retire are in limbo over their actual contributions.
The Ashanti Regional Industrial Relations Officer, who was speaking in an interview at the backdrop of a clean-up exercise by the Union at the Lady Julia Government Clinic in Atonsu-Kuwait Abaase of the Ashanti Region, stated that calculating retirement benefits by the schemes has become a problem.
In addition to this, he said, the past credit declared by SSNIT was woefully inadequate. He narrated a situation wherein a principal Technical Officer, who had worked for over 37 years, was given a past credit of GH¢4,727.
"This issue calls for intervention from relevant authorities as soon as possible, to curtail the needless delay in accessing benefits from the scheme's contributors.
"The clean-up exercise at the Lady Julia Government Clinic was to mark the 2019 HSWU Week celebration, which will be held under the theme 'Organising for better pensions from 2020 and beyond: A time to make a difference'."
He opined that the period has been used to advocate for the concerns of health workers, pensions, health financing, migration, salaries, allowances; and also universal health coverage as well as elderly care issues, and increasing in the SSNIT lump-sum by 31 percent.
Notwithstanding the challenges enumerated, Mr. Mensah stated that the Union over the period has made some remarkable strides – including deepening the Union's visibility to the leadership of professional groups across the country, increased branch shares, and facilitation of implementing Market Premium of additional grades for some junior staff among others.
He explained that the theme for the HSWU week celebration was carefully chosen as a result of fears of the Union's members relating to whether pensions paid under Act 766 will be better than under PNDL 247.
"That is why the Union wants players in the pension industry to assure us of better pensions. The Union is also seeking to use this opportunity to educate members on the new pension law, as well as to sell the Union and organise new members into our fold."