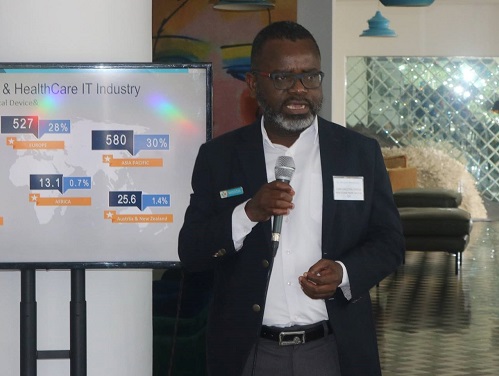 From 25th-28th March, Israel is set to host the fifth MEDinISRAEL Conference and Exhibition. This year's conference focuses on digital health and will have discussions and exhibitions designed towards global best practices and affordable health technologies.
The Trade and Economic Mission to Ghana together with the Ghana-Israel Business Chamber will lead a delegation of health professionals to participate in MEDinIsrael. Participants of this conference will enjoy a tailor made agenda geared towards a better understanding of Israel's digital health ecosystem and building collaborations with Israeli innovative companies in the digital health sector.
As part of Ghana's delegation, the Founder and CEO of New Crystal Health Services, Dr. Wisdom Dogbey Amegbletor, has been selected to serve as a judge for a startup competition on enhancing universal and affordable access to healthcare services. He will work alongside other judges from China, UK, Germany, Brazil and Israel.
Also serving as a guest speaker at MEDinISRAEL is the Director of Health Innovation at Impact Hub Accra, Ms. Emily Sheldon. She will speak at the Women Innovators in Healthcare Transformation conference – a MEDinISRAEL satellite event.
Digital health has become a growing global phenomenon and increasingly contributing to the fast delivery of health care in most developed economies. It opens tremendous opportunities to deliver healthcare services to patients at the comfort of their homes or wherever they are, through any web or mobile device, without requiring a presence of healthcare provider. For millions of people that live in distance from or in scarcity of healthcare resources and services, the growing spread of smartphones creates new possibilities to access healthcare and improve quality of life, hence the need to explore the digital health opportunities in Ghana.
Israeli Digital Health industry has its roots in a long history of using innovative communication technologies to improve healthcare delivery. With more than 25 years of expertise in implementing health IT, electronic medical records and business analytics; the Israeli government is investing strongly in IT thus putting Israeli expertise in international demand.