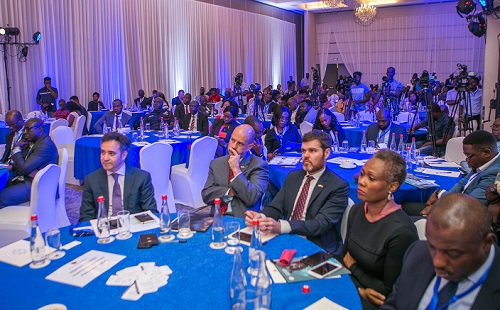 GE Healthcare has held a two-day 'Healthcare Dialogues' event in Ghana, bringing together public and private sector industry stakeholders – including policymakers, healthcare professionals, decision-makers, academia, investors and financing institutions – to drive conversations around innovative sustainable healthcare solutions to help propel Ghana's Universal Health Coverage (UHC).
Under the theme of 'Elevating Healthcare through Collaborations', key topics discussed were Structuring Innovative Healthcare Financing Solutions; Ghana's Vision for UHC; the Future of Radiology with Artificial Intelligence (AI); and Healthcare Technology Innovations among other topics.
A key highlight of the event was the unveilling of GE Healthcare's new budget-conscious ultrasound system, the Versana Essential. It has excellent image quality and can be used by obstetricians and gynecologists, family and general practice physicians, and clinicians in a number of other specialties – making healthcare accessible to promote maternal healthcare in Ghana.
It also comes with local product and clinical training, backed with GE's solid aftersales service to help healthcare professionals gain comfort and proficiency with the system to enhance patient care.
"Promoting health for all is key in accelerating Ghana's vision for Universal Health Coverage," said Eyong Ebai, General Manager-GE Healthcare West Central Africa & French Sub-Sahara Africa. "Through collaborations, continuous investment in sustainable healthcare solutions and capacity building, GE Healthcare will continue driving access to quality and affordable healthcare in the region."
Ghana has been recognised for its commitment to addressing barriers to health care services and attainment of UHC by 2030 by providing formal support to its vulnerable population through its National Health Insurance Scheme (NHIS).
In 2018, the NHIS had increased to about 11 million people from the 1.3 million memberships at inception in 2005, representing 38 percent of Ghana's population. In addition, the healthcare system engages over 4,000 public and private providers and accounts for about 85% of its internally-generated funds.
"We are proud to host the GE Healthcare Dialogues in Ghana and provide a platform for the industry stakeholders to advance the country's healthcare agenda," said Sulemana Abubakar, CEO-GE Ghana. "This is a testament of our role as a global leader with local presence, to drive better outcomes for people in the markets in which we operate."
Farid Fezoua, CEO of GE Africa, in his remarks added that Ghana is making progress toward UHC through initiatives such as the NHIS to boost financial protection of its vulnerable population, and the CHPS to deliver cost-effective and quality primary care services while also engaging the community in planning and delivery of services.
"The only way we are going to achieve universal health coverage is by developing solutions. Take primary care: we must be able to standardise and package infrastructure that delivers services around maternal and new-born health, early detection of non-communicable diseases like cervical cancer, cardiovascular diseases and others at the primary care level," he said.
Alexander Abban, the Deputy Minister of Health, said government is putting in place policies that will ensure the people have easy access to healthcare. He said the ministry is reviewing the National Health Policy, adding that it is finalising a UHC roadmap that will serve as guidelines for action toward achieving UHC.
"These two documents will provide the policy direction and broad strategies for action toward achieving UHC, based on key determinants of health within a functional, nationally-integrated collaborative framework," he said.
While commending GE for its numerous initiatives geared toward improving the healthcare system in Ghana, Mr. Abban called on corporate organisations, the private sector and NGOs to partner the ministry – and for that matter, government – in order to ensure its UHC vision by 2030.
He also urged all stakeholders within the health sector to improve on collaboration as well as re-commit their efforts toward strengthening the health systems to facilitate multi-stakeholder engagements, in order to achieve UHC and improve quality of life and ensure a useful life-expectancy for all.