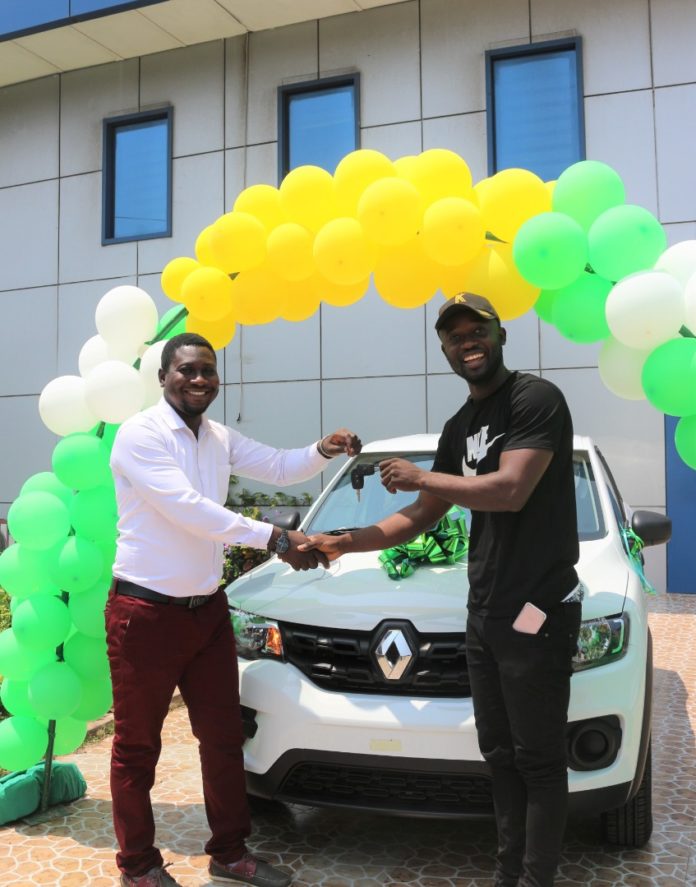 SoccaBet Company Limited, a leading betting company in Ghana, has held another raffle to award the fifth Renault KWID car in its Massive Promo to the lucky winner at the organisation's head office  last weekend.
Godfada, pseudo name of the winner, whose real name is Shamsu Halid, a resident of Accra, was in seventh heaven when he was surprisingly handed his car keys as the winner of the fifth raffle.
Godfada, who was overwhelmed on confirming that he really won the car and he was not being defrauded, quickly called his wife to share the good news since the wife always speaks against his habit of betting and never winning.
He prevailed over four others in the raffle of about one thousand participants to grab the fifth of 10 Renault KWID cars to be awarded in the promotion.
First runner up, YS Morgan  received GHc300 betting voucher whist the second runner up Billie42 received GHc150 betting voucher. 93Percival and Menozer who placed Fourth and fifth also received GHC100 and Ghc50 Vouchers respectively.
The five lucky contestants were selected in a random spine of about thousand potential winners, after which the wheel of fortune mechanism was also applied to select the ultimate winner. This activity was supervised by the gaming commission to ensure fairness.
Patrick Kwakye, representative of Gaming Commission (GC), said: "the Gaming Commission is mandated to regulate, control, supervise and ensure that there is transparency in whatever raffle  is taking place. So, GC is present to ensure that whatever Soccabet is doing on the day is free and fair."
"I will like to assure all participants that this raffle is free and fair and whoever wins will get his deserving prize," he added.
Marketing Officer, Soccabet, Samuel Zigah, indicated that to create  a more memorable euphoria when presenting the car to the winner, Soccabet decided to hold the draw at the head office and invite the winner to the office before breaking the surprise news to him.
"what we are doing at Soccabet is phenomenon, we are the only betting company in Ghana that can do this kind of promotion that gives away ten cars, one per month and this is why everyone must come to Soccabet when they want to place a bet," he said.
Godfada now joins Farouk Bari, Sulley1990, Dekoko and Yankey100, as the five lucky winners of the Renault KWID, in the Massive Promo, with five more lucky names to add up to the list.
The next giveaway raffle will be held on the first Saturday of September, and the public is encouraged to register with Soccabet online betting portal in order to stand a chance of winning the next car or other prizes in the next draw.