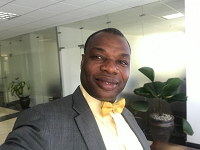 Mr. Bennet Kpentey, a Financial Consultant, has advised start-ups to focus on getting equity instead of bank loans in order to avoid the pressures that come with payment plans and eventual collapse of their businesses.
According to him, equity has a more flexible payment terms and therefore gives room for gradual scale-up and profit making.
He made this statement at CitiFM/TV's 'The Ghana Rising Conference' at the Kempinski Gold Coast Hotel in Accra.
The one-day conference centered on discussions aimed at growing Ghanaian indigenous businesses and also discuss ways of boosting their capacities for exports.
Speaking on the theme: Financing Indigenous Businesses — Surmounting the Barriers, Mr. Kpentey noted that: "if you are a startup, there is no guarantee that you are going to make money immediately. So one of the things you want to do is to get patience capital which is not a bank loan, that you have to be paying every month or but with the banks, you pay whether you make profit or not.
Mr. Bennet, who spoke as part of the panelist for the Finance session moderated by CitiFM/TVs Vivian Kai Lokko, noted that many start-ups are not exposed to the realities of bank loans and therefore collapse before they even begin.
He advised start-ups to target angel investors and crowd funding websites as sources of funding to support their businesses,
Also present at the conference was renowned industrialist and former President of the Association Ghana Industries, Tony Oteng-Gyasi, in his keynote address on the theme: Taking Commanding Heights of the Ghanaian Economy; Opportunities for Indigenous Businesses, noted that the prevailing high-interest rates in the country could be traced to the poor management of financial institutions.
he stated that banks are passing on their inefficiencies to consumers through the high cost of borrowing; suggesting that a robust sector is ideal to bring down the cost of lending.
"I say this on behalf of all the other entrepreneurs and businesses in the country who have suffered the pain of high interest rates due to the poor governance of these banks. Those in the finance sector will recognize that the cost of our high-interest rates must have been also due to the poor performance of these banks. It translates definitely into high-interest rates. If we want 7%, we need properly governed banks in order to arrive at that kind of interest rates", said Mr Oteng-Gyasi.
The event featured panel discussions on four thematic areas namely: Finance, Oil & Gas, Agriculture & Agribusiness and Green Economy.
Also, some of the discussions centered on oil and gas including the Local Content Law and the opportunities there are.
The summit brought together stakeholders, policymakers, and entrepreneurs to examine opportunities for local businesses to grow, creation and implementation of policies that place local businesses at the center of national development, and ways to leverage the Africa Continental Free Trade Area (AfCFTA) for local businesses to scale into global conglomerates.